The Durst Organization has signed Australia-based Servcorp, a provider of equipped executive offices and virtual office space, to a 15-year, 34,775-square-foot, full "tower floor" lease on the 85th floor of One World Trade Center.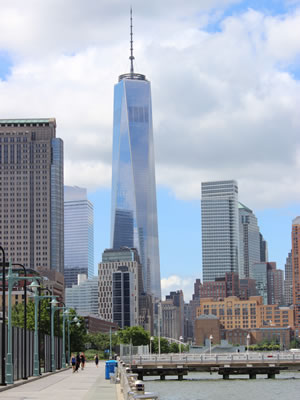 With the closing of this transaction, the 3.0-million-square-foot office tower is now 57.5-percent leased. Tower floors occupy the 64th through 90th floors.
"As the tallest building in the Western Hemisphere, One World Trade Center conveys both stature and status upon its steadily growing roster of tenants," said Jonathan (Jody) Durst, president of The Durst Organization.
Marcus Moufarrige, Servcorp's chief operating officer, added: "It is our belief that this will become the world's most recognized address."
International publishing giant Condé Nast, the property's anchor tenant, is in the closing stages of interior construction for nearly 1.2 million square feet between the 20th and 44th floors. The space will serve as the company's global headquarters.
One World Trade Center will mark its official opening toward the end of this year when Condé Nast begins to move personnel into the building.
The property recently signed a full-floor, 34,775-square-foot lease on the 87th floor to ad agency KiDS Creative, LLC.
In addition, Legends Hospitality, LLC – the sports entertainment company developing the building's One World Observatory on floors 100-102 – will situate members of its Observatory operations team in pre-built space on the 45th floor. Also, London-based BMB Group, an international, investment advisory firm, is leasing pre-built space on the 46th floor.
China Center New York LLC, a division of Vantone Industrial Co., Ltd., holds a 202,732-square-foot lease and will occupy the entire 65th through 69th floors, as well as a portion of the 64th floor.
Also, the U.S. General Services Administration is leasing 272,995 square feet between floors 50 through 55.
Durst is conducting the building's global marketing campaign in conjunction with Cushman & Wakefield, whose leasing team is led by executive vice chairman Tara Stacom and includes Alan Stein, James Searl and Justin Royce, along with Jodi Pulice of JRT Realty.
One World Trade Center was been designated the Western Hemisphere's tallest building by the Height Committee of the Council on Tall Buildings and Urban Habitat, the entity usually recognized as the arbiter of global building heights.
The Durst Organization offers a pre-built/build-to-suit program setting aside a total of 94,000 square feet on the 45th and 46th floors for companies with small space requirements. Suites with high-quality finishes will be available for November occupancy in sizes ranging from 2,000 to 20,000 square feet.
Designed to achieve LEED CS Gold Certification, One World Trade Center is poised to become the most environmentally sustainable project of its size in the world.
One World Trade Center is being developed as a joint venture of The Port Authority of New York and New Jersey and The Durst Organization.