Silverstein Properties announced today that investment research provider Morningstar, Inc. has signed a 10-year, 30,000 square foot lease at 4 World Trade Center. The company expects to move to the 48th floor of 4 World Trade Center in mid-2015.
"The new World Trade Center is open and great companies want to be here," said Larry Silverstein, in a statement. "After all the years of planning and building, the future has finally arrived at the World Trade Center, just as Lower Manhattan is reaching its full potential as the world's most dynamic and modern live/work community."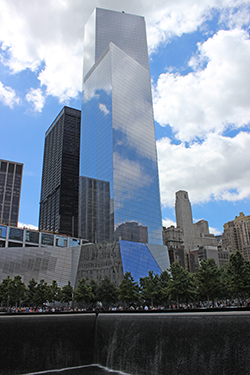 "We're excited to expand our footprint in New York by leasing space in such a beautiful building," added Joe Mansueto, chairman and CEO of Morningstar. "We conducted an extensive search, and we love the building's design. Moving Downtown allows us to double our capacity for staff in New York. We'll design it like other Morningstar offices around the globe."
Lease negotiations for Morningstar were handled by a CBRE team headed by Michael Liss. Jeremy Moss, Director of World Trade Center Leasing for Silverstein Properties, led the negotiations for the landlord, together with the CBRE agency team including Steve Siegel, Mary Ann Tighe, Adam Foster, Steve Eynon, Evan Haskell, Ken Meyerson and David Caperna.
According to the Downtown Alliance, 511 firms have moved to Lower Manhattan since 2005, leasing a total of 12.3 million square feet. 226 of those companies have been in creative or professional services, taking 51 percent of the space leased.
Designed by Pritzker-prize winning architect Fumihiko Maki to meet a LEED Gold standard of sustainability, the 977 foot tall 4WTC contains 2.3 million square feet of office space spread over 56 office floors.
In July it was announced that MediaMath will occupy almost three 44,000 square feet office floors in the middle of the building. In addition, 520,000 square feet of the office space in the tower is currently being built out to become the new headquarters of the Port Authority of New York & New Jersey. Another 600,000 square feet is being occupied by the City of New York.