The Council on Tall Buildings and Urban Habitat (CTBUH) has announced several staff promotions, hires, and opportunities for new members of their staff.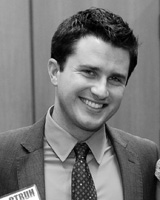 A not-for-profit organization, based at the Illinois Institute of Technology Chicago, CTBUH is a leading resource for professionals focused on the design, construction, and operation of tall buildings and future cities.
Steven Henry has been promoted to Associate Director of the Council, in order to manage the growing staff and oversee many of the Council's initiatives. In addition to ensuring that day-to-day operations continue to run smoothly at CTBUH Headquarters, he will oversee an array of projects, initiatives and outputs that the CTBUH undertakes as part of its growing operation. This will enable Executive Director Antony Wood to channel more of his energy towards business development and international operations.
As new CTBUH chapters launch and more events are developed each year, Jessica Rinkel joins CTBUH as Leader Coordinator and Events Manager. Her primary responsibilities include organizing and managing events, such as the CTBUH International Conference and Annual Awards Symposium, Ceremony and Dinner, as well as giving guidance and support to global leaders. Jessica's immediate tasks include delivering this September's Shanghai Conference and November's Annual Awards Symposium, Ceremony and Dinner.
CTBUH said that great strides are being made on both the "back" and "front" ends of the CTBUH Website and Skyscraper Center. Son Dang, CTBUH's new Web Developer, has worked with recently promoted Web Editor Aric Austermann to develop a cleaner Web site design, as well as a fresh new look and richer links for Global News.
The new work on the back end will soon drive Chapter, Member and People pages to the same level of richness now experienced elsewhere on CTBUH sites. Site visitors can now more easily explore connections and related stories between CTBUH members, their projects, and events on the world tall-building stage, bringing more value to CTBUH membership and improving the public profile of the Council.
The Council is also seeking motivated individuals for two more staff positions in the Chicago headquarters office: Production Associate and Administrative Assistant. Click here to learn more about these opportunities.