The newly formed Empire State Realty Trust, whose signature asset is the Empire State Building, has hired Ryan Kass as Senior Vice President and Director of Leasing and Marketing, joining ESRT's Fred Posniak, Senior Vice President of Leasing and Marketing, to build the trust's in-house leasing and marketing team.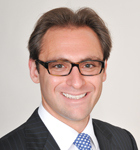 Mr. Kass will be joining the Company from Newmark Grubb Knight Frank, where he was involved in the leasing of the Empire State Building, One Grand Central Place and other agency leasing assignments for the Company.
"Ryan will join Fred and lead the growth of Empire State Realty Trust's leasing and marketing team," said Thomas P. Durels, Executive Vice President and Chief of Property Operations and Leasing of the Company. "He brings experience in leasing and marketing, knowledge of our properties and excellent relationships within the brokerage community. We are very excited to have him on board."
A month after ESRT's initial public offering, shares are worth 25% less than initially projected. This has lead the leasng team to step-up efforts including a Super Bowl ticket raffle for brokers who tour all nine buildings in ESRT's Manhattan Pre-War Trophy office portfolio.