One World Trade Center will end 2015 having achieved a major milestone: the property has now leased a total of two million square feet of Class-A office space.
The iconic, 1,776-foot-tall tower reached this milestone with the signing of two new leases for pre-built space on the property's 84th floor: a 12,000-square-foot transaction with SHVO, an international developer of luxury residential, hospitality, and mixed-use projects; and a 10,000-square-foot lease with Juno Lab, a promising new sharing economy venture, founded by a successful team with an impressive track record (the founders of Viber).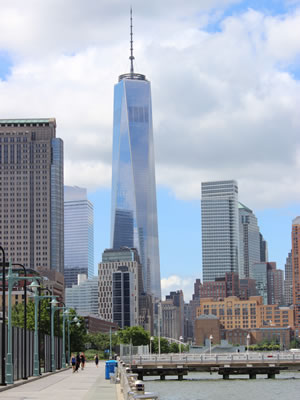 The tallest building in the Western Hemisphere, One World Trade Center now includes a roster of 24 tenants representing such business sectors as media, technology, financial services, and advertising.
The two newest transactions demonstrate the continuing success of the tower's specialized prebuilt/build-to-suit program. The Durst Organization has set aside a total of 212,420 square feet on the 45th, 46th, 47th, 83rd and 84th floors to accommodate small-space tenants from a range of sectors. Suites feature a variety of layouts and high-end finishes, and are available in sizes ranging from 2,000 to 20,000 square feet.
"Leasing two million square feet of Class-A space is comparable to the full lease-up of two major Manhattan skyscrapers," said Eric Engelhardt, Vice President of Leasing at One World Trade Center for The Durst Organization. "One World Trade Center continues to attract a steady pipeline of tenants representing a wide spectrum of business categories."
"One World Trade Center continues to play a vanguard role in the unfolding revitalization of Downtown Manhattan," said Beth Wolfowitz, Port Authority Director of Leasing and Development for the World Trade Center Redevelopment Department. "Tenants know that the address delivers added value because the instant name recognition reinforces and underscores the power of their own corporate brand."
"One World Trade Center's prebuilt/build-to-suit program continues to be highly successful," said Cushman & Wakefield Executive Vice Chairman Tara Stacom. "Tenants are excited to assume occupancy in a best-in-class property that has redefined the Manhattan skyline. Businesses also recognize that the building's excellent light and first-class views help boost productivity and workplace morale."
The Durst Organization was represented in-house on the two new transactions by Karen Kuznick, and by a Cushman & Wakefield team led by Tara Stacom that includes Justin Royce, Barry Zeller, Connor Daugstrup, and Peter Trivelas. Elliott Warren, of the Kaufman Organization, represented Juno Lab. SHVO was represented in-house.
Among the property's largest tenants, global publishing giant Condé Nast, the anchor tenant, situated its 1.2-million-square-foot headquarters between the 20th and 44th floors. The General Services Administration has approximately 273,000 square feet on floors 50 to 55, online gaming company High 5 Games occupies 87,663 square feet on floors 58 and 59, location-focused mobile advertising firm xAd occupies 86,517 square feet on floors 60 and 61, and financial services giant Moody's has signed a lease for 75,312 square feet on floors 56 and 57.
Executive suites firm Servcorp occupies approximately 35,000 square feet on the 85th floor, China Center New York holds approximately 33,000 square feet on the 89th floor, and One World Observatory has approximately 115,000 square feet on 100-102 and lobby floors.
One World Trade Center will provide direct, weather-protected connections to 11 subway lines, the PATH train, and the Hudson River ferries. In addition, the West Concourse pedestrian walkway — which connects the World Trade Center campus to Brookfield Place and Battery Park City — now offers access to the iconic World Trade Center Transportation Hub and to the entrance to One World Observatory. It will soon also provide access to 125 shops being developed by Westfield, including restaurants, and services, and the new MTA Fulton Transit Center on Broadway.
Designed to achieve LEED CS Gold Certification, One World Trade Center is poised to become the most environmentally sustainable project of its size in the world.
Developed by The Port Authority of New York and New Jersey, One World Trade Center sets new standards of design, construction, and prestige, and heralds the revitalization of Lower Manhattan. Managed, operated and leased by The Durst Organization, One World Trade Center is the new icon of New York's skyline and the most recognized and desirable office address in the world.