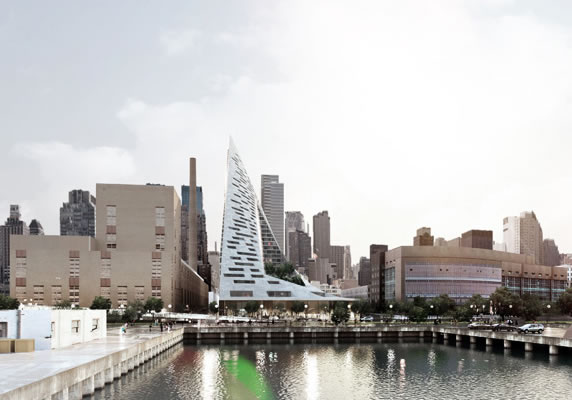 Livanos Restaurant Group has a signed 20-year lease for approximately 7,000 square feet at 31-story Via 57 West, the anchor building on Durst's 57 West residential superblock. The restaurant will be in the south east corner of the building adjacent to the main lobby.
Via 57 West is a 709-unit residential rental building, designed by renowned and innovative Danish architect Bjarke Ingels that is a dramatic visual gateway into Manhattan. Via's unique tetrahedron shape, sloped and angular roof line, saw-toothed curtain wall and interior garden have made it an architectural landmark and new typology for Manhattan residential buildings.
The block also includes The Durst Organization's Helena 57 West and Frank 57 West. Via 57 West and Frank 57 West are both scheduled to open in 2016. Helena 57 West, the first LEED residential tower in New York City, opened in 2005.
"We're pleased to partner with The Durst Organization on a project that we envision bringing fresh energy to the area," says Livanos' proprietor Nick Livanos. "We're looking forward to joining forces and playing an integral role in the development of the area by offering our signature hospitality and a place for residents and visitors to gather."
The legacy of the Livanos family began in 1957 when John Livanos immigrated to the United States from Greece and began his career as a dishwasher, working for his uncle in Manhattan. He purchased his first restaurant three years later, and in 1985 opened the elegant Livanos Restaurant in White Plains, NY. Now, in 2015 John Livanos and his children, Nick, Bill, and Corina, own and manage six successful restaurants.
"We are proud that the Livanos family has selected Via 57 West for their new endeavor and look forward to working with Nick and his family on this project," said Jonathan (Jody) Durst, President of The Durst Organization. "The addition of Livanos further distinguishes 57 WEST and the surrounding area as a premier residential and retail neighborhood."
Livanos Restaurant Group and The Durst Organization were both represented by Lee & Associates' Managing Principal Peter Braus and Senior Managing Director Brad Schwarz. The Durst Organization was also represented in-house by Senior Vice President of Leasing Tom Bow and Leasing Manager Ashlea Aaron.
Via features 44,000 square feet of retail space, in addition to 567 market rate and 142 affordable rental units. The unique design of the high-rise provides for generous apartment layouts with custom "cockpits" built into the buildings sloped exterior wall that afford views of the Hudson River and South to Lower Manhattan. Building amenities include a 22,000 square foot courtyard modelled on Central Park, numerous outdoor decks with river and city views, a gym, swimming pool, basketball court and spinning room along with party rooms, lounges, a library and game rooms.