Four elevations of aluminum facade are undergoing a complete restoration at 1201 Third Avenue, a 55-story office building in the heart of downtown Seattle. Built in 1988, the high-rise has experienced wear and tear over the years, creating an aged facade in need of cleaning. The architectural restoration company, Stuart Dean, will clean, refinish and apply a protective coating to the architectural aluminum window systems and ornamental metal. The company's work on 1201 Third Avenue will result in a cleaned and brightened appearance of the building's four elevations, totaling nearly 300,000 square feet.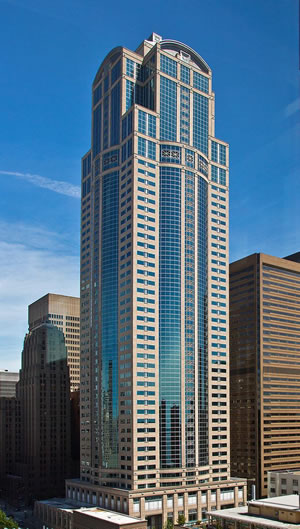 At 772-feet-tall, 1201 Third Avenue is the second tallest building in the city, and the eighth tallest on the West Coast of the United States. Developed and managed by Wright Runstad & Company, construction began in 1986 and finished in 1988. It was designed by Kohn Pedersen Fox Associates and The McKinley Architects. The building was the world headquarters of the financial company Washington Mutual from the building's opening until the company moved into the WaMu Center across the street in 2006.
"We are pleased to restore 1201 Third Avenue to its original condition by extending the service life of the aluminum on the building's facade," said Mark Parrish, president and CEO of Stuart Dean. "For this ongoing restoration project, Stuart Dean has designed and implemented a quality assurance program to monitor the conditions of the restoration and preservation. This will result in cost savings for the client, which is what led them to selecting Stuart Dean and the company's full array of offerings."
Stuart Dean customized a schedule for the client to enable one elevation to be restored per year, as opposed to attempting to complete the entire project in one year. One elevation was restored through October 2013, the second will be restored in 2014, the third in 2015 and the fourth in 2016.
1201 Third Avenue is LEED Platinum Certified and contains 1,128,575 square-feet of Class A+ office space. Joness Lange Lasalle is the leasing agent.
Photo courtesy of Jones Lange Lasalle