Maintaining carpet can be a constant battle between quality and staying within the confines of a reasonable maintenance budget. The correct carpet specification will minimize these difficulties and make it easier to maintain the appearance of a building. When selecting and writing specifications for new carpet, consider maintenance requirements for each selection and the ease or difficulty to keep the flooring looking good on a daily basis. Although design is important for the image of a building, practical use must be considered for longevity, cost of maintenance and appearance retention.
An owner can install white carpet throughout a facility, as long as they have the budget to clean it almost every day. Design selection without considering practical use and maintenance can be a costly, nagging burden to the facility manager and owner. During initial planning, general topics for selection such as overall budget, expected lifecycle, use requirements and the basic maintenance program are usually considered. Dig deeper into the specification to select the best product within your budget that includes the design elements but also keeps the long-term appearance high and overall maintenance costs low.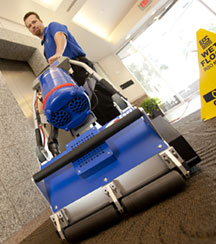 Finding a commercial carpet dealer, professional maintenance company or manufacturer's representative that is well educated in all portions of carpet construction and maintenance can be helpful in your research. The topics that require more detailed research include fiber type, backing system, density of the construction, color choice and diversity of pattern to hide soil.
Fiber Type
Nylon type 6.6 branded fibers are quality fibers. Branded fibers provide a proven track record for being cleanable and wearable and are used in products with balanced construction for higher appearance retention. The fiber shape, polymer structure and stain resistant properties for branded products are key performance attributes of their specification, so quality will always be consistent. Unbranded fibers that take on the name of the carpet manufacturer, or a name that is unique to the carpet manufacture, can have more variance in fiber shape and inconsistent or unknown quality characteristics because many of them do not have clear industry-wide recognized specification.
Backing System
Backing systems are another important area of construction and performance in quality commercial carpets. Most products in the market utilize "actionbac" construction which is a two-layer backing system that utilizes water soluble latex and clay additives in the backing adhesives. This standard type of backing can break down over time causing delamination, edge ravel and many other appearance problems. Carpets selected should have some type of enhanced backing with long-term edge ravel and delamination warranties, and the adhesive binders should not be water soluble. Checking the backing warranty for delamination and edge ravel protection will help in selecting products that can be maintained without damage and have an extended lifecycle.
Density, Color and Diversity
Color pattern, texture and density are also important aspects of a complete specification. The right color selection and randomness of pattern will help hide spots and soil patterns between cleanings. Texture and the density of the product will increase the wear life and minimize pile crush and fiber damage in highest traffic areas. Products that are 1/8 gauge should have four to five ply yarns and textured surfaces for longterm use, while 1/10 or 5/64 gauge products can be two or three ply yarns if constructed correctly with balanced density across the length and width of the product.
Finally, color selection is also important for the highest level of appearance retention. Stay away from products that are too light or too dark unless they are being used for accents or borders. Medium to medium-dark colors should be used with color splashes that do not form distinct patterns. Very light colors show spills and soil quickly, but dark colors also show soil due to the visual variance in the traffic or soiled areas. It is important to understand that visual color in a carpet is created through diffusion of light passing through the fiber. When soil attaches to the fiber, the pile is crushed or other variance in the face pile or texture occurs. The product will be a slightly different color due to the way it diffuses or reflects the light differently than other areas. Selection of the correct colors, random patterns and the use of color splash will help texture or soil variances to be less noticeable for longer periods of time between cleanings.
Each piece of the construction plays a role in the long-term appearance and ability to clean commercial carpet. Although your budget may not allow for the highest level of these suggestions, the more you can incorporate in your final selection, the happier you will be with the finished product, and you will see how easy it is to keep your facility looking great with a quality maintenance program.
Photo courtesy of Commercial Service Solutions
Thomas E. Carlson
Thomas E. Carlson, president of Commercial Service Solutions, has nearly three decades of experience in all aspects of the carpet industry, including production, installation and maintenance.