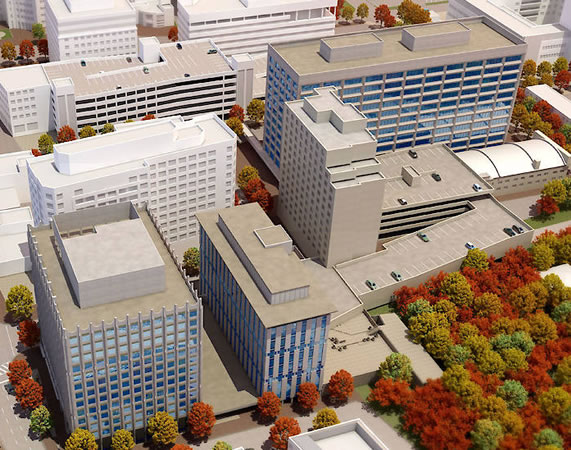 MRP Realty, developers of commercial, residential and mixed-use real estate across the Washington Metropolitan region, and Rockpoint Group, LLC, a real estate private equity firm, today announced the sale of the Wisconsin towers of Bethesda Crossing, 353,000 square feet of Class A office, to institutional investors advised by J.P. Morgan Asset Management.
The entire complex, consists of three buildings totaling approximately 715,000 square feet of premier Class-A space. MRP Realty and Rockpoint Group purchased the property in January 2013 and invested nearly $30 million in renovations. MRP and Rockpoint will retain ownership of the 12-story Montgomery Tower. MRP Realty will continue to provide property management services for the 13-story Wisconsin Towers.
The transaction closed on April 2nd; the purchase price was not disclosed.
"The sale of Bethesda Crossing is another step forward in our committed strategy of acquiring well- located, urban-infill assets and renovating, repositioning and rebranding them into premier office and residential properties," said Bob Murphy, managing principal of MRP Realty. "It's a significant enhancement in the overall tenant experience for our occupants and further drives home our commitment to creating additional investment value for our investor partners".
Renovations made at Bethesda Crossing include: updates to the main lobbies and common areas throughout the complex; a state-of-the-art 4,000 s.f. fitness center in Montgomery Tower; fully renovated restrooms throughout the complex; installation of energy-efficient window systems in the Wisconsin Towers; installation of energy-efficient lighting throughout the complex; rehabilitation of the parking garage; and several mechanical upgrades, including a new cooling tower in Montgomery Tower, HVAC control upgrades in the Wisconsin Towers – West, and replacement of the boiler and chiller servicing the east and west towers.
Zach Wade, Jackson Prentice and Cris White of MRP conducted the transaction.
Rendering ccourtesy MRP Realty