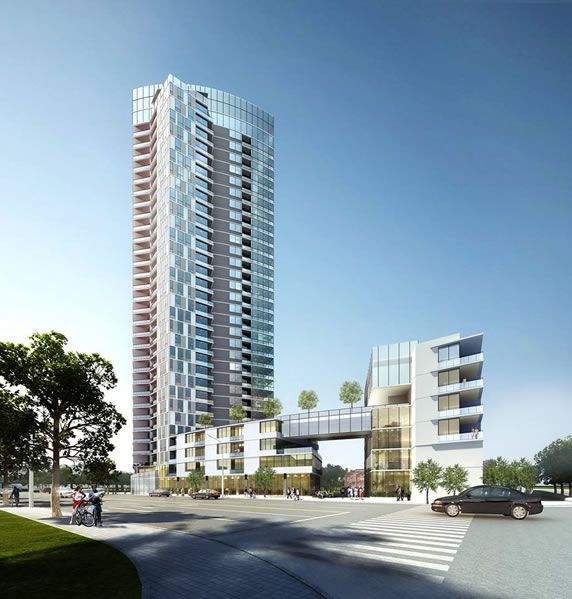 PM Realty Group (PMRG) and National Real Estate Advisors (National) have secured $79 million in financing for The Confluence, a 288-unit, luxury residential high-rise under development in downtown Denver. the project broke ground in December of 2014.
HFF secured a 48-month, 65 percent loan-to-cost construction loan through a national bank. In 2013, HFF arranged the joint venture partnership between PMRG and National to develop the high-rise tower.
The development site is situated on 1.21 acres at the southwest corner of 15th Street and Little Raven Street in the Riverfront Park area of the Lower Downtown district. The 34-story tower will provide mountain and skyline views and will include 10,000 square feet of retail and a 300-space underground parking garage. Due for completion in 2017, units will include one-, two- and three-bedroom options averaging 1,040 square feet. Community amenities will include a state-of-the-art fitness center, swimming pool with lounge and cabanas, spa, fire pit, game room, clubhouse and business center.
The HFF team representing the borrower included managing directors Rob Rizzi and Josh Simon, associate director Colin Oberg and real estate analysts Leon McBroom and Matt Gangaware.
"The Confluence will undoubtedly be the preeminent multi-housing property in Denver, offering an unmatched combination of location, lifestyle, design and amenities, and ill serve as a striking addition to the Denver skyline," said Rizzi. "PM Realty Group and National Real Estate Advisors have emerged as one of the foremost development partnerships for best-in-class multi-housing properties in the country."
"This financing is very accretive to the development," added Simon. "We built in a longer initial term with extension providing more of a mini-perm option without sacrificing the very low floating-rate or any other terms of the loan."