Constellation Place in Century City, CA is known for its progressive environmental efforts. From solar panels and fuel cells to high-efficiency plumbing and lighting, this 35-story JMB Realty Corp. architectural landmark is setting the bar in efficiency. It is the recipient of the BOMA 360 Performance Program Designation and is officially certified by the city of Los Angeles and state of California as a green business.
Constellation Place, formerly MGM Tower, contains 700,000 sq ft of Class A office space and houses the headquarters of Houlihan Lokey, ICM Partners, and International Lease Finance Corporation (ILFC).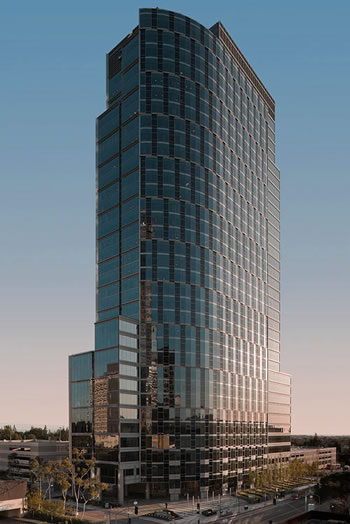 Now the management behind the LEED EB O&M Gold Certified Building has raised that bar even higher with the installation of Load Based Optimization System (LOBOS), HVAC optimization software from Enerliance, acquired by Yardi Systems this year. LOBOS is an intelligent optimization system for large-scale air conditioning systems that offers improved comfort, energy efficiency and fully automated demand response capability that improves bottom lines for building owners and occupants.
In 2013, the nearly 800,000-square-foot building was ready for the next transformative energy efficiency upgrade. With very efficient mechanical and EMS systems already in place, the addition of HVAC optimization software was the obvious next step. The upgrade is slated to reduce Constellation Place's annual energy use by more than 1.1 million kWh.
Enerliance Business Development Director CP Pitones commented: "LOBOS installed buildings are currently generating $5 million in annual energy savings. And with a building as environmentally progressive as Constellation Place, adopting the latest, most efficient technology is the norm."
LOBOS monitors and controls the energy-using devices in a building's or campus's HVAC system. By constantly making micro-adjustments, the HVAC optimization software balances both the chiller and air handling systems for efficiency every minute of every day, maintaining a consistently comfortable environment on every floor while using the minimum amount of energy.
Whether that energy comes from solar panels, fuel cells or the good old-fashioned grid, HVAC optimization software uses it with maximum efficiency. One key measurement of cooling system efficiency is kilowatts per ton, an indicator comparable to miles per gallon in an automobile. The Constellation Place central plant daytime load now runs at 0.34 to 0.65 kilowatts per ton on most days, compared to 0.80 to more than 1.00 kilowatts per ton prior to LOBOS, an average reduction of 30-50 percent. The smaller nighttime loads have been seeing consistent energy efficiency improvements of 50 percent or more.
In addition to previously-unheard-of energy savings and improved occupant comfort, Enerliance Founder Scot Duncan says that one of the premier benefits of LOBOS is its elegant practicality: "As a standalone technology built on the Niagara platform, LOBOS system integration is performed with relative ease. LOBOS is designed to interface seamlessly with nearly all modern HVAC systems to deliver consistent efficiency and comfort."
Pitones is confident this new technology will serve the building well: "By adding LOBOS HVAC intelligence to an already efficient HVAC system, Constellation Place is now even further ahead of the typical Los Angeles high-rise."