The 18-story Edith Green-Wendell Wyatt Federal Building in Portland, OR, is in the midst of a massive modernization designed to make it a high-performance green building. Constructed in 1974, many of the Green-Wyatt building systems were at the end of their useful life and needed to be replaced.
The $139 million modernization project, part of the 2009 American Recovery and Reinvestment Act, will make necessary upgrades to the aging building infrastructure while achieving a 50% reduction in energy use from the existing building.
The new incorporates several efficient, sustainable, and innovative technologies that are expected to achieve a LEED Platinum rating. The 439,000-sq-ft high-rise is operated by the U.S. General Services Administration (GSA) and houses offices of the FBI, the DEA and the IRS, among others.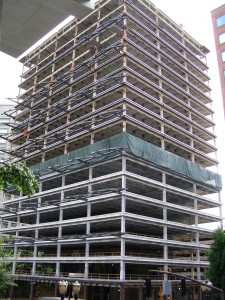 Interface Engineering, headquartered in Portland — known for its ecological sensitivity, technical expertise, and cost-efficient design, is the project's plumbing engineer. According to the firm's Portland-based senior plumbing designer, Dennis Kangas, CPD, the original systems were old and inefficient, and the plumbing, HVAC and rain harvesting pipe systems were essential to increased efficiency.
McKinstry, a full-service design-build and operation and management firm, is the project's mechanical and plumbing contractor, and project manager Eric Peterson explained that improving the building's efficiency while keeping an eye on costs was a top priority
At the start of the project, Ridgeline Mechanical Sales presented Aquatherm PP-R pipe to Interface. Because the project's goal was a LEED Platinum rating, Aquatherm was chosen to fulfill the structure's plumbing requirements. Interface principal, Jon Gray, was quite familiar with Aquatherm's highly engineered plastic pipe systems, which have been used globally for nearly 40 years in a huge range of applications. "I've been sold on the product for many years and had been waiting for the market to ripen, and it seemed like the Edith Green building was a perfect fit for the project," Gray said.
"With reclaimed/re-used water using copper is not your first choice for rainwater distribution because the copper will get eaten up by the soft water. With Aquatherm we were able to use the same pipe material for potable and non-potable water so you're not mixing piping materials in the system, which can cause a lot of problems. Also, the pricing came in about the same as copper," he added.
The project needed to follow the Facilities Standards for the Public Buildings Service (P-100), a design standard and criteria for the Public Buildings Service (PBS) of the GSA. Since the P-100 stated that no plastic could be used, Interface used a variance to allow for Aquatherm's use.
"We also explained that using this pipe instead of the other options was going to be to their advantage," Kangas added, noting that PP-R's natural insulation value (a natural R-value of 1) was also a big selling point.
McKinstry used 1½-in.-diameter Aquatherm Climatherm® PP-R piping for the building's new radiant system. Climatherm runs around the perimeter of the building; fusion outlets connect the perimeter piping into the rest of the system. The fusion outlets were huge labor savers on the project since they allow installers to simply drill into the supply pipe, then heat fuse the fusion outlet fitting into place wherever needed.
All Aquatherm pipe is connected via heat fusion, which bonds both sides of a joint into a single, homogenous material without the use of chemicals or mechanical connections — eliminating systematic weaknesses and fail-points.
For the potable water supply lines, McKinstry utilized Aquatherm's ½-in.-diameter Greenpipe® pressure piping, which is especially suited for hot and cold potable water and food-grade applications. Greenpipe is made with environmentally friendly Fusiolen PP-R material and is recyclable, energy efficient, and PVC-free.
Additionally, rainwater is gathered from the roof, the PV solar array, and the plaza level and stored in 150,000-plus gallons storage cistern in the basement. The rainwater is UV sterilized and used in the reclaimed system, with Aquatherm's Lilac piping transporting it to low-flow toilets and urinals.
Using a heat-fused plastic pipe on a high-rise building was a paradigm shift for the entire team, according to Dave Lusher, sales representative for Harrington Industrial Plastics, the project's Aquatherm piping distributor.
"Slowly but surely the old-school people came over and accepted that Aquatherm is a good alternative. It's one of those situations where the customers say, 'We've always used carbon steel," explained Lusher.
McKinstry was also impressed with the piping system's warranty. When installed by Aquatherm-trained and certified technicians, the piping and fittings carry a 10-year, multimillion-dollar warranty covering product liability, personal injury, property damage, and even incidentals.
While the building isn't scheduled for completion until 2013, the plumbing piping for floors 2 through 17 shell and core has been completed since October 2011. In all, McKinstry estimates that over 130,000 linear feet of Aquatherm will be used on the project.
Barry Campbell
Before graduating from Ohio University's E.W. Scripps School of Journalism with honors, Barry Campbell had already launched a professional writing career as a reporter and working for the Associated Press. His career spans nearly three decades, including award-winning work in the newspaper, trade magazine (with a more decade in HVAC), and marketing/advertising/PR fields. As Aquatherm's Director of Advertising and Media Relations, Campbell provides a unique perspective on all media-related and marketing matters and works tirelessly to educate North America about the benefits of polypropylene-random pipe.