The Courtyard Seattle Downtown/Pioneer Square has completed a 19-month, $750,000 restoration of its historic building. The downtown Seattle hotel, at 612 Second Ave., is an adaptive reuse of the 1904 Historic Alaska Building. While the restored Pioneer Square hotel today houses smartly redesigned rooms, a high-tech lobby and numerous modern amenities, the building's historic roots have not been forgotten.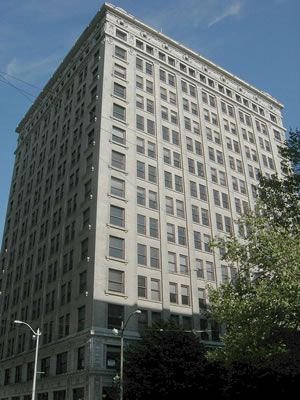 The building was purchased by American Life, Inc. in 2007 for $38.7 million and renovated to begin a new life as a Courtyard by Marriott in June 2010.
Originally completed in 1904 as the tallest building in the city at the time, the state-of-the-art building is considered by many to represent the beginning of the modern-day Seattle. The 15-story steel-framed, fireproof skyscraper was a first of its kind in a period of economic and industrial growth in the heart of Seattle. When the building first opened, the Scandinavian-American banking hall occupied the first floor, while the Alaska Club, a prominent commercial organization of residents and entrepreneurs, convened in the penthouse and maintained a reading room that featured Alaska newspapers and mineral exhibits. The Alaska Building came to represent the significance of the gold rush in Seattle and what the city's future would hold.
After 110 years, the decorative facade and imposing lion heads that adorn the building parapet began to show their age with signs of water intrusion in the decorative terracotta. In an effort to restore the building's beauty while remaining loyal to its roots, the Pioneer Square hotel began to embark on the necessary efforts in early 2013 to make the old new again.
Detailed engineering, material sourcing and the permitting process were undertaken to develop the necessary design plan to return the Alaska Building to its original state. The design review was conducted by the National Parks Service as well as the Pioneer Square Preservation Board. After several proposals were presented, the final designs and engineering plans were approved.
The downtown Pioneer Square hotel has 15 floors featuring 222 rooms, 40 suites, nine meeting rooms with 4,600 square feet of flexible meeting space, a health club, indoor pool and state-of-the-art lobby.
Photo credit: Joe Mabel