The story behind the famous Chrysler Building spire is something of architectural folklore. Walter Chrysler had instructed his architect, William van Alen, to make his building the tallest in the world. Van Alen's one-time partner, and now bitter enemy as the story goes, H. Craig Severance, was working on a rival structure for the Bank of Manhattan Company (now known as 40 Wall Street). Month after month, the two builders competed by altering their plans to stay ahead of the other.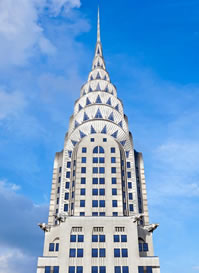 On October 16, 1929, four sections of the 186-foot-long spire that had been secretly constructed inside the building, were erected in a mere 90 minutes, bringing the building's height to 1,048 feet, 121 feet taller than its rival. The building's finishing touches were completed by the spring of 1930 with the gleaming spire clad in a type of German-made stainless steel called Nirosta. But Chrysler's supremacy would last for less than a year, when the Empire State Building would overtake it for the title of world's tallest.
When the building first opened, it contained a public observatory on the 71st floor, which was closed to the public in 1945. This 3,900 square-foot floor-plate is now the highest occupied floor, though the building is said to have 77 floors. Above the 71st floor, the stories of the building are designed mostly for exterior appearance. These top stories, are very narrow with low, sloped ceilings, and are used for holding mechanical and electrical equipment, elevator motors and a large water tank in case of fire. The highest accessible level within the spire is a small 84th level platform.
Television station WCBS-TV transmitted from the top of the Chrysler in the 1940s and early 1950s, before moving to the Empire State Building. For many years, WPAT-FM and WTFM (now WKTU) also used the building as a transmission site, but they also moved to the Empire State Building by the 1970s. The building was the site of the first color broadcast in history, which was demonstrated to CBS and the Press on August 27th, 1940.
Now owned by the Abu Dhabi Investment Council and Tishman Speyer, the Chrysler Building is currently the 7th tallest building in the U.S., 50th tallest in the world, and still the tallest brick building in the world. It's considered the leading example of Art Deco architecture.
Recently Moses Gates, author of a book called 'Hidden Cities: Travels to the Secret Corners of the World's Great Metropolises' took radio personality Opie of the radio duo Opie and Anthony into the crawl spaces of the spire to reveal its secrets. What they discover is a web of concrete supports and mechanical equipment, along with stunning city views. A video of their exploration is embedded below.
Photo Credit: Tishman Speyer