U.S. Bank Plaza in Minneapolis has received Gold certification under the U.S. Green Building Council's LEED for Existing Buildings (EB) Rating System.
The 22 and 40-story, Class A office towers are located in the heart of the city's Central Business District. Designed by Skidmore, Owings & Merrill, U.S. Bank Plaza contains 1.3 million rentable square feet and was completed in 1981.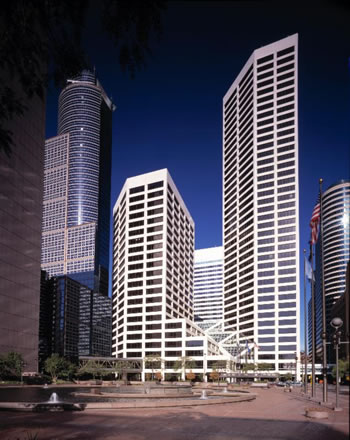 Green features implemented at U.S. Bank Plaza include:energy-efficient lighting with reduced mercury content; the use of environmentally sensitive cleaning products and practices; reduction of indoor potable water use through low-flow fixtures; and a comprehensive recycling and composting program. Additionally, Hines offers its proprietary GREEN OFFICE for Tenants program, which assists in giving tenants options to reduce their carbon footprint.
In addition to earning LEED Gold, U.S. Bank Plaza has earned the ENERGY STAR® label every year since 2001. With a current rating of 95, the building is 54 percent more energy efficient when compared to the average U.S. office building.
"U.S. Bank Plaza achieving LEED Gold demonstrates our commitment to the environment, our tenants and the community. Energy savings, equipment efficiencies, water conservation and recycling programs directly benefit the tenants in terms of lower operating costs," said Hines Managing Director Bill Chopp.
Hines Global Sustainability Officer Gary Holtzer added, "By achieving LEED certification at U.S. Bank Plaza, the local project team demonstrates to our owners, tenants, prospective tenants and the community that this property is being managed to the highest standards of excellence."
The building's tenants played an important role in achieving LEED Gold by participating in transportation and comfort surveys, tracking green purchases and increasing recycling efforts. The building is leased to a notable tenant roster including, among others: CliftonLarsonAllen, Ernst & Young; Fredrikson & Byron; Grant Thornton; Henson & Efron; and U. S. Bank.