Cayan Tower, formerly known as Infinity Tower, in Dubai was inaugurated this week with a number of the UAE's most prominent figures in attendance. The launch of the tower comes after the company received the Dubai Municipality's certificate of completion. Because other towers exist with the moniker 'Infinity', developers recently decided to rename the project Cayan Tower.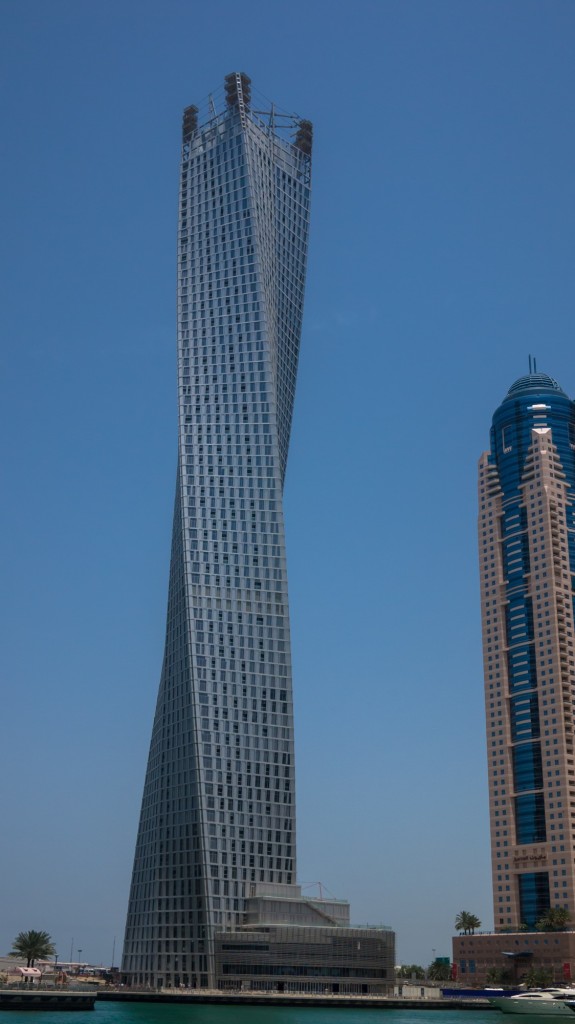 The $272 million, 1,007-foot-tall residential high-rise has 495 apartments on 75 floors. 80% of the units have been pre-sold according to the developer, Cayan Real Estate Investment and Development Company. One-bedroom apartments are going for $435,000.
Ground was broken on Cayan Tower in 2006 but soon after, flooding in the basement caused construction delays. The project was scheduled for completion by 2010 but then came the world-wide financial crisis which resulted in further delays.
Infinity Tower is the highest twisting tower in the world, incorporating a high-strength, reinforced concrete column superstructure that rotates 1.2 degrees per floor to create a helix. The tower will include a rooftop park, a health spa, a gymnasium, conference rooms, a cigar-room, a fully equipped nursery, an outdoor tennis court and other amenities. The main contractors for the Infinity Tower is Arabtec, one of the biggest construction companies in the region.
President and Chairman of the Board of Cayan Group Ahmed M. Al Hatti described the project's quality standards saying: "Infinity Tower has been built according to the highest international standards for towers and that won it several international awards. The Tower has received 'Best Architecture' award in London's International Property Awards as well as four Arab Real Estate Awards in Dubai."
The project is characterized by its magnificent architecture, giving residents stunning panoramic views of the Palm Dubai sea or Marina thanks to its 90 degree spiraling curve from top to bottom. Pre-finished titanium metal panels on cast-in-place concrete perimeter columns along with repetitive staggered screen panels filter the direct sunlight to the units. An inboard glass line creates a deep sill to minimize direct light and provide a screen effect, shading both glass and terraces. It was designed by Skidmore Owings and Merrill, known for projects such as Burj Khalifa in Dubai, Trump Tower in Chicago and Jin Mao in Shanghai.
Photo credit: Imad Marie