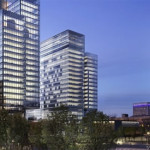 Skanska Begins Construction of Prudential's Newark Office Tower
Prudential Financial Inc. has hired Skanska to build the first two phases of a three phase office tower development in Newark, New Jersey. The contract value is $117 Million, though Prudential has estimated the entire project will cost about $444 million.
The first phase of the project calls for a 20-story high-rise office tower, with a total area of about 732,000 square feet. The second phase is an adjoining 1,400-space parking structure with 50,000 square-feet of retail space on the ground level. The project aims to achieve LEED Gold certification.