Reach Higher With High Rise Facilities
High Rise Facilities is the only media brand focused on the operations and management of tall buildings. We target the ownership and management of buildings with about 12 floors or more. Our audience makes purchasing decisions to the tune of billions of dollars annually. What your company sells may be critical to the success of these impressive buildings — thousands of high-rises nationwide. But are you reaching the right people? Are you focused on top-quality leads? Do you have a plan to reach out and connect with your best prospective clients?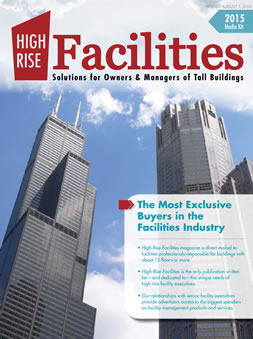 In a down economy, companies that put their marketing on offense can accelerate their growth, generate sales and eclipse their competitors. A consistent effort says your company is solid, committed and here to stay. That's especially important in tough economic times.
High Rise Facilities' audience are an exclusive group. Their tall buildings are the gems of the city. In fact, they are practically vertical cities within themselves. And it's critical that management find the best quality and value for their tenants and stakeholders.
Would you like to count some of these well-known buildings as clients? I invite you to learn how we can help. With a full suite of marketing products High Rise Facilities can help build your business. Right now.
Worldwide Sales
Travis Barrington
Call: (858) 227-9288
Email: travis (@) highrisefacilities.com