The September 11th terrorist attacks of 2001 brought a level of destruction to America that had not been witnessed since the bombing of Pearl Harbor. As reconstruction efforts continue in New York City, Preferred Utilities Manufacturing Corporation is helping the city rebuild its World Trade Center complex by designing and delivering a new mission critical back-up fuel delivery systems for World Trade Center 3.
Based in Danbury, Connecticut, Preferred Utilities Manufacturing Corporation has specialized in combustion engineering since 1920. Preferred's mission critical expertise will play an integral part in the construction of the new World Trade Center project in New York City. Tower 3  plans to utilize a customized diesel fuel system provided by Preferred Utilities Manufacturing Corporation.
Tower 3 (or 3WTC) will rise eighty stories and include over 2.8 million square feet of space spread across 53 floors and five base building floors. Office floors will range from 29,000 to 44,000 square feet, and base building floors will include 68,000 square feet of space.
The structure will utilize a reinforced concrete core with an external structural steel frame that will enclose the outer glass shell. Its safety systems will exceed New York City building code and Port Authority of New York and New Jersey requirements, and it will seek to achieve the LEED Gold standard for energy efficiency.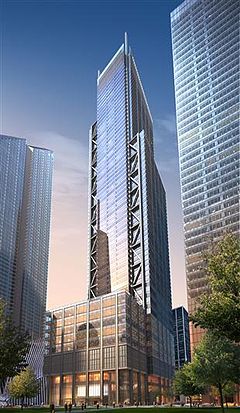 A building as bold as 3WTC requires an extensive backup generation system in case the tower ever loses power. Thanks to Preferred Utilities Manufacturing Corporation, 3WTC will benefit from a customized fuel delivery system that will keep the generators chugging, even during power outages like those experienced during Hurricane Sandy.
3 WTC's custom features include:
Backup diesel supply (960gph)
Twin duplex strainers
Priming funnels
Position switches on manual ball valves
10" touchscreen display with Fuel Sentry
3 WTC is on the east side of Greenwich Street, across the street from the original location of the Twin Towers that were destroyed during the September 11 attacks. Pritzker Prize-winning architect Richard Rogers (Rogers Stirk Harbour + Partners) was awarded the contract to design the building and Tishman Construction is the main contractor. 3 World Trade Center is expected to be completed by 2016.
Rendering courtesy of Silverstein properties and Rogers Stirk Harbour + Partners