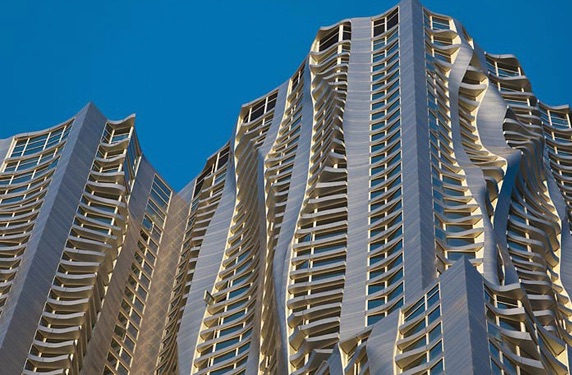 When it opened in 2011, New York by Gehry was the tallest residential tower in the Western Hemisphere and has since become an iconic figure in the Manhattan skyline. Designed by renowned architect Frank Gehry, the waves of stainless steel on the exterior reflect changing light, transforming the appearance of the building throughout the day.
New York by Gehry's owner, Forest City Ratner Companies, was looking for a way to enhance the wireless experience for its residents and enable seamless connectivity throughout the 870-foot tall, 76-story residential high-rise.
"New York by Gehry is a premium address on the cutting edge of design and architecture with distinctive aesthetics. It was a natural choice to provide our residents an internal infrastructure to match," said Christopher Lau, Manager of Building Technology Services for Forest City Ratner Companies. "We needed an experienced partner who could design and deploy a robust distributed network without impacting the residents or unique building aesthetics."
Forest City worked with distributed network provider ExteNet to deploy multiple, discreetly-mounted antennas throughout the building. The deployment also includes ExteNet's high-profile patented iDUCT solution that leverages existing HVAC ducts in the building to deliver enhanced wireless coverage and performance. Wireless probes are placed throughout existing HVAC infrastructure. These devices are connected to base transceiver station hubs, allowing the transmission of radio frequencies via the building's metal ductwork.
As a testament to the network's success, the building will be featured in the upcoming NYSWA Wireless Forum event on June 16, where attendees will get a tour of the building and experience the network first-hand.
"Nearly 80 percent of mobile usage originates indoors, yet only a small fraction of buildings currently covered by indoor wireless solutions support the coverage and capacity needs that residents and tenants demand," added Ross Manire, President and CEO of ExteNet.
By leveraging existing HAVC infrastructure, DAS installations are less disruptive to occupants and can be implemented quickly. In addition, DAS is carrier neutral, meaning a variety of wireless providers can service the building.