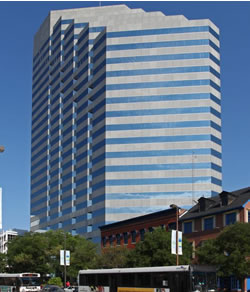 Corporate Office Properties Trust (COPT) has acquired a 368,200 square-foot high-rise office building for $63.5 million from Dallas-based Tier REIT. The 24-story building is 95% leased and is located at 250 West Pratt Street, a premium office address in Baltimore, Maryland's Pratt Street Corridor near the Inner Harbor.
The property is 95 percent leased, including new tenant Pandora Jewelry, which is in the process of moving its Americas headquarters, along with hundreds of employees, to the building. Other tenants include the University of Maryland faculty, University of Maryland Medical Systems, and the
U.S. Probation and Parole office.
"This acquisition enhances the quality of our regional office portfolio by increasing our ownership of urban, in-fill buildings in amenity- and transportation-rich submarkets," stated Roger A. Waesche, Jr., COPT's President and Chief Executive Officer.
Cushman & Wakefield of Maryland's Cris Abramson represented Tier REIT in the transaction.
Photo: CoStar