2200 Post Oak Boulevard, a 326,000-square-foot class-AA office building in the Galleria area of Houston, has achieved LEED Gold Certification.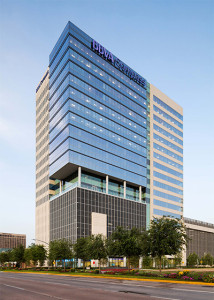 The property, known as BBVA Compass Plaza, is a Class AA corporate office project developed by Stream Realty and The Redstone Companies. The 22-story, building was officially completed in April of 2013. The project is the first new office tower to be constructed in Houston's Galleria market since the mid-1980s. Tenants in the building include, BBVA Compass, Worldwide Machinery, Osaka Gas Resources America, Berkadia Commercial Mortgage, and Turkish Airlines.
"Every aspect of the project was built to the highest standards and environmental factors were no exception," said Kyle Roberson, vice president of construction and development at Stream Realty. "Our goal was to create a building that was aesthetically pleasing, but that also met the green standards for development. We wanted to construct a building that our community can be proud of and which moves the bar higher for new projects."
The LEED Rating System, designed by the U.S. Green Building Council, provides standards for environmentally-sustainable design and construction and for high-performance green buildings. The building features maximum energy performance, low energy consumption lighting, specified use of certified green materials, water efficient landscaping, reduction of indoor air contaminants, and utilization of a modern chilled water HVAC system. The LEED Gold certification was obtained with the consulting services from, and not limited to, BLUM Engineers, HKS Architects, Manhattan Construction and Wylie Commissioning.
Image courtesy Stream Realty