14 Wall Street, in lower Manhattan, has completed a comprehensive access control installation and upgrade.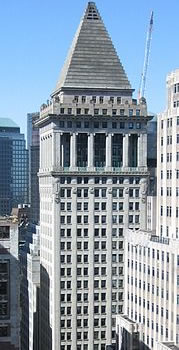 Constructed in 1914, 14 Wall Street hosts 1.04-million-square-feet of commercial space. The 37-story building is located directly across from the New York Stock Exchange. The building was designated as a New York City Landmark in 1997.
More than 15 perimeter and elevator readers within the building were converted during the installation. In addition, equipment was installed for communication between the building and a remote command center in Bethesda, Maryland, operated by Datawatch, a commercial office building access control system provider. Approximately 3,200 credentials with unique access levels are now in use every day within the building.
Datawatch Systems performed the installation. "14 Wall Street is one of the City's finest properties, and we're extremely pleased to have been named the access control provider of record here,�? said Sean S. Brown, Vice President of Business Development for Datawatch Systems.
The managed access control system allows guards to monitor the entire building – doorways, elevators, and parking areas. Security staff can quickly verify employees, permit elevator use, and create visitor badges for both specified lists from tenants and for unexpected guests.