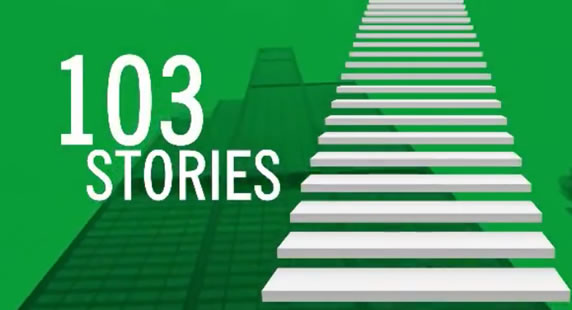 On Sunday, thousands will race to the top of the famed Willis Tower to support friends, family and community members who, at one time, were unable to complete similar physical feats.
SkyRise Chicago – the world's tallest indoor stair-climbing event – benefits the Rehabilitation Institute of Chicago (RIC). All proceeds of the sold-out event will help provide quality clinical care and cutting-edge research for more than 50,000 RIC patients from around the world. Current and former patients account for many of the nearly 3,000 adults and children who will participate, including Sen. Mark Kirk (R-Ill.), who received intensive physical therapy after a massive stroke in January 2012. This will be Sen. Kirk's second time participating in the event.
"At RIC I learned the most important part of rehabilitation is to never, ever give up," said Sen. Kirk. "Since returning to work, I have fought to be an advocate for victims of strokes and other serious illnesses. I'm proud to support RIC and would not be able to participate in SkyRise without the organization's dedicated professionals."
Other former and current patients participating in the fifth annual SkyRise include:
Chip Battoe: At 33 years old, Chip suffered a spinal cord injury when a car collided with his scooter and was told he had less than a 5 percent chance of walking again. Chip worked tirelessly with his team at RIC to walk again and is now ready to conquer the Willis Tower.
Vince Carroll: Last year, after a car accident left him with a traumatic brain injury, 19-year-old Vince worked with a multidisciplinary team at RIC to relearn how to walk in just four months.
Participants who climb Willis Tower's 103 floors (2,109 steps) will cross the finish line at SkyDeck Chicago, which features The Ledge – a glass balcony that extends more than 4 feet outside the building where visitors can observe panoramic views of up to four states. This year's fastest stair climber is expected to finish in less than 14 minutes, while average participants will complete the climb in about 45 minutes. Participants also have the option to use their upper-body strength instead of climbing by using stationary hand cycles calibrated for resistance and time to match the stair-climbing experience.
"As an integral part of the Chicago community, we appreciate our role in this exciting event to help improve the lives of so many RIC patients," said Randy Stancik, vice president at U.S. Equities Asset Management, LLC, Willis Tower's management and leasing agent. "SkyRise offers participants the rare opportunity to experience Willis Tower from a completely different perspective while giving back to our community."
As the nation's leading provider of comprehensive physical medicine and rehabilitation1, RIC continually introduces new developments in medicine and technology – recently, the New England Journal of Medicine featured the world's first thought-controlled bionic leg2, developed at RIC. In January 2017, RIC will open the new Ability Institute of RIC – a $550 million, 1.2 million-square-foot facility. This center will bring scientists, engineers and device developers together in the same space as patients and clinicians in a fully integrated model of care.
"Every year, we're amazed by the determination and enthusiasm of all participants – from trained athletes to RIC patients who are currently recovering with us," said Dr. Joanne C. Smith, president and CEO of RIC. "SkyRise is truly a living symbol of strength and achievement. We can't be more thankful for those who support the event."