The Durst Organization and The Port Authority of New York and New Jersey today announced the closing of a 37,704-square-foot lease with Ameriprise Financial, Inc. for the 78th floor of One World Trade Center, the tallest building in the Western Hemisphere. The property is now 69 percent leased.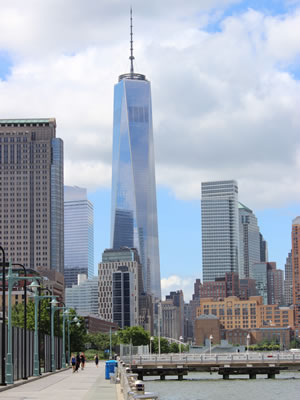 Headquartered in Minneapolis, Ameriprise Financial will move its New York-based executive office space from its current location to One World Trade Center during the second quarter of 2017. Ameriprise Financial joins Moody's, which occupies 75,312 square feet in the building, as a prominent financial services firm to lease space at One World Trade Center – the second in the past nine months.
"Adding a company like Ameriprise, with a 120-year history and steadfast commitment to serving clients' financial needs, to our tenant roster speaks to the compelling nature of One World Center and its place in Lower Manhattan's ongoing importance as a center for business and culture," said Eric Engelhardt, Vice President of Leasing at One World Trade Center for The Durst Organization. "One World Trade Center continues to attract a diversity of space users, with additional momentum building among financial services firms."
"The recent openings of the eastern portion of the Transportation Hub Oculus and the Dey Street passageway further catalyzes the connective tissue and vibrancy of Lower Manhattan's transportation, creating an even more compelling reason for tenants to take space at One World Trade Center," said Beth Wolfowitz, Port Authority Director of Leasing and Development for the World Trade Center Redevelopment Department. "With its full-floor lease, Ameriprise Financial will enjoy the building's full array of amenities and now even greater ease of use."
"Ameriprise Financial is a tremendous addition to One World Trade Center, with an address befitting its stature in the financial community," said Cushman & Wakefield Executive Vice Chairman Tara Stacom.
The Durst Organization was represented in-house on the Ameriprise Financial transaction by Mr. Engelhardt and Karen Kuznick, and by a Cushman & Wakefield team led by Tara Stacom that includes Justin Royce, Barry Zeller, Connor Daugstrup and Peter Trivelas. Ameriprise was represented by Josh Kuriloff, Drew Braver, Frank Cento and the Cushman & Wakefield Global Occupier Services team.