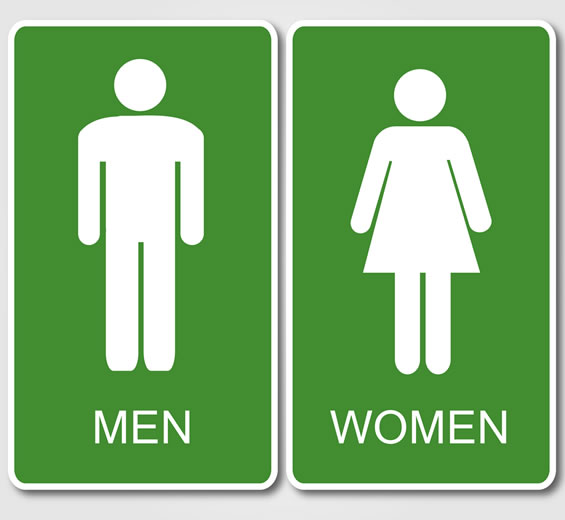 Most green cleaning programs focus on chemical choices. And that's a great place to start. However, a more successful program—especially for restrooms—goes beyond by incorporating other approaches: proper equipment, procedures and processes, and training. All minimize the impact of cleaning on the health of janitors, building occupants, and visitors, while protecting the environment as a whole.
Let's look at the latest trends and best practices in green cleaning restrooms. The first question a janitorial company should ask a client who wants to implement a program is, "How green do you want to go?" As mentioned, usually the first thing to consider is a change of chemicals, so this article will start there.
Understanding Green Cleaning Chemicals
The why. Environmentally friendly cleaning products help improve indoor air quality and reduce health problems that traditional products may cause. Studies have shown that with green cleaning chemicals, building occupants, visitors and janitorial staff experience fewer incidents of skin, eye, and respiratory irritations; allergies; multiple-chemical sensitivities; headaches; nausea; and perhaps longer-term issues such as cancer. In addition, switching to green chemicals can help facilities earn points toward LEED certification in the U.S. Green Building Council's category for Existing Buildings: Operations & Maintenance (LEED-EB O&M).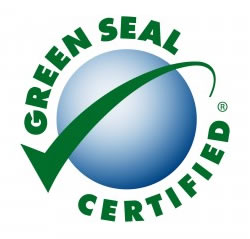 Beware the "green buzz." Green Seal is an independent non-profit organization that has been around since 1989. Therefore, you can feel confident the products they certify meet scientific sustainability standards and are not simply a subject of the "green buzz" that's become a popular (but sometimes untruthful) way to market products. The Green Seal web site has product lists and clear information to help you make proper choices. For example, janitorial companies often use products in Green Seal's GS-37 category: "Cleaning Products for Industrial and Institutional Use." Hydrogen-peroxide-based and other multi-surface cleaners can take the place of separate products for each task, which simplifies the cleaning process, training, and chemical storage. For disinfectants, standards set by the California Air Resources Board ensure a low level of volatile organic compounds or VOCs—gases released that can be respiratory irritants and can contribute to ozone problems. Course sprayer nozzles also help reduce atomized chemical release.
Handsoap, refill and dispenser choice. Handsoap should NOT be antimicrobial/antibacterial—except in food or medical environments—because the common cold and the flu are caused by viruses, not bacteria. (It's helpful to install signs explaining the benefits of using hot water and scrubbing hands for the appropriate length of time ). Factory-sealed soap refills in snap-in cartridges help eliminate the risk of bacterial contamination often found in liquid refillable pour soap. If the budget allows, touchless dispensers are a good choice as they reduce germ transfer.
Choosing Green Cleaning Equipment and Products
The miracle of microfiber. Microfiber is a true friend to those interested in cleaning restrooms the green way. The material, which can absorb up to seven times its weight in water, has an almost magnetic attraction to dirt and dust, because microscopic "hooks" in the fabric act as claws that scrape up and hold particles. Microfiber mops and cloths and micro-bristle toilet brushes clean very effectively by quickly capturing dirt rather than just moving it around. Microfiber is lint free and sturdy but soft, so it does not scratch surfaces. Test results show the material can reduce bacteria levels by 96%. 
Besides saving labor, cleaning with microfiber is environmentally friendly because it can minimize use of chemicals and paper towels. In addition, microfiber cloths and mops can (and should) be color coded for different segments of the restroom to control cross contamination—the spreading of bacteria among people, surfaces, and/or equipment. For example, one color might be used for urinals/toilets and another for mirrors, counters, sinks, and dispensers. The mops used for restrooms should be a separate color from mops used in other areas.
Paper and dispenser considerations. Paper products should meet the Environmental Protection Agency (EPA) "Comprehensive Procurement Guidelines" and the Green Seal "Standards for Tissue (GS-1) and Towels (GS-9)." These pertain to the recycled content in janitorial paper products and the process of bleaching without harmful chlorine or its derivatives.
Coreless paper and dispensers (employing a reusable plastic spindle) save on maintenance by reducing service calls to refill dispensers. The system also prevents run-out, while saving on waste. The old cored-paper systems waste a lot of paper because janitors have to pull the cores off the spools when the paper gets thin. And then there is inefficiency inherent in the packaging and the cores themselves. The new coreless paper lasts longer throughout the day because of increased length per roll. The system can eliminate 95% of the packaging waste associated with standard bath tissue and cut storage requirements by up to 50%.
Automated dispensers/faucets/toilets. These are good for the environment when they work properly. You must be aware that toilets could sometimes flush over and over, or water or handsoap could spout out randomly. But if well maintained, they are very efficient for water reduction and even energy savings, particularly if recycled batteries are used or the units are hardwired. Touchless systems reduce germ transfer, but also require the proper set up to ensure battery lifespan and water reduction.
Creating Efficient and Effective Cleaning Practices
Standardized cleaning protocols are integral to any program. Look for a janitorial company with processes that are proven to be effective and efficient. However, this means nothing if employees aren't properly trained. In restroom maintenance, training on the proper techniques for disinfecting and preventing cross contamination is critical. For example, in order to work effectively, disinfectants require sufficient dwell times (generally ten minutes). Also, extremely important in eliminating cross contamination is the order in which each fixture is cleaned, the use of color-coded microfiber (as mentioned above), and protocols for wearing and removing gloves.
Training should include supply preparation techniques to ensure efficiency and safety. For example, green chemicals are usually concentrated formulas, packaged in smaller containers to minimize plastic and save on shipping costs and fuel. Therefore, before being used, they must be correctly diluted with water.
In establishing a restroom cleaning program, volume and timing trends need to be taken into consideration, particularly in high traffic areas. Usually, restroom cleaning doesn't change much from location to location or industry to industry, with two major exceptions: (1) airports, stadiums, and other facilities with exceptionally large volumes of people, and (2) healthcare facilities where regulations have to abided by, due to the higher risk of dealing with a broader range of diseases, blood borne pathogens, bodily fluids, etc. If you're in these industries, look for a janitorial company that has developed specialized programs.
Keeping Up with New Developments
Green cleaning has been around for a while now and continues to evolve. Janitorial companies that have developed and implemented programs since the beginning will offer the benefit of experience. It's also vital to keep up with all the new developments in products and equipment that enhance results. Outsourcing your cleaning to a company that specializes in the field can be a time-saving, money-saving, better-outcome choice. You can focus on running your business and leave the "dirty work" to an expert.
Alan France
Alan France is the Director of Sustainability, Environmental Services for ABM, one of the largest facility management services providers in the U.S. He has developed and implemented ABM's sustainable policies, procedures and tools used by ABM's service teams under the ABM GreenCare® program umbrella in over 400 million square feet of commercial space. France is responsible for ABM's internal sustainability initiatives, metrics and reporting centered on the four principles of Responsibility in the Workplace, Marketplace, Environment and Community. For more information, go to http://www.abm.com/pages/green-cleaning-sustainability-commitment.aspx.