With everything the U.S. economy has endured in the last decade, who would have thought that the development and construction of high-rise towers in major cities would be on the rise? Despite the recession, the events of 9/11, Hurricane Katrina, and the real estate market collapse, a recent report from the Council on Tall Buildings and Urban Habitat (CTBUH) – Year in Review: Tall Trends of 2013 – says that high-rise construction is increasing again across the country.
"There are approximately 320 buildings that are 20 floors and higher currently under construction in the United States," says Marshall Gerometta, database editor for the Council on Tall Buildings and Urban Habitat. "Fifty-one of those are 150 meters or taller."
Heavy construction and a slew of new proposals made 2013 an exciting year in New York City. The decades-long spat between Chicago and New York for world's tallest was resolved in favor of New York, when the CTBUH ruled that the spire of One World Trade Center would count toward its official height, thus surpassing the height of Willis Tower in Chicago. Also at the World Trade Center site, the 977-foot tall Four World Trade Center is almost complete and Three World Trade Center will top out at 1,155-feettall in 2017.
2013 also marked the completion of the 755-foot-tall Marriott Courtyard and Residence Inn Central Park Hotel at 1717 Broadway, the tallest building completed in the U.S. last year. Meanwhile, on 57th Street and elsewhere in the city, several super-slim luxury residential towers are cropping up, creating a unique new architectural trend. One of them, the 1,004-foot-tall One57, will be completed this year.
The current high-rise building boom is not limited to New York City, massive projects are reshaping skylines in nearly every major American city. In San Francisco, Sales Force Tower will briefly be the tallest building on the West Coast when it tops out at 1,070 feet in 2017 but Los Angeles' Wilshire Grand Center will soon thereafter surpass it by 30 feet.
In Miami, the long delayed 822-foot-tall Panorama Tower is now under construction and when completed in 2017, it will become the tallest building in Florida. In Chicago, River Point, a 50-story office building will also be completed in 2017, while OneEleven, a 58-story residential high-rise is wrapping up this year.
The economic downturn in 2008 greatly affected tall building construction, Gerometta explains, but CTBUH expects a turnaround. "Eleven buildings, 150 meters or taller, are scheduled to be complete by the end of this year, and 13 are predicted to complete in 2015," he says. "Tall building construction is starting to recover, especially in New York and Miami."
Read on to learn about other notable high-rise construction projects currently underway, and what makes them stand a little taller than the rest.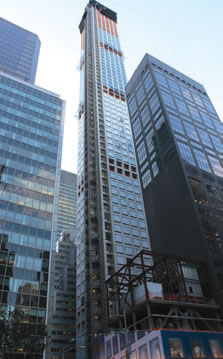 432 Park Avenue
No. of Stories: 84
Use: Mixed-use (hotel/residential)
Location: New York City
Completion Date: 2015
LEED: yes (unsure of anticipated certification level)
Team: Rafael Viñoly Architects, SLCE Architects, CIM Group, Macklowe Properties, Lend Lease, WSP Group
Features: 125 apartments, golf training facilities, private dining and screening rooms
Set to become the third-tallest building in the country, and one of the tallest residential buildings in the world, 432 Park Avenue will also be the tallest building in Manhattan when measured by roof height. It's designed around the concept of a square, with 84 93-foot-square stories, each with six 100-square-foot windows per face. The exterior is made up of white concrete columns and spandrel horizontal beams. In a building this tall, you'd expect several elevators, but 432 Park Avenue will only have five since most floors house only one apartment.
The building required the demolition of the 495 room Drake Hotel built in 1926. In 2006 the hotel was sold for $440 million to Macklowe. It was demolished in 2007. Harry Macklowe told the New York Times that total sales are expected to surpass $3 billion compared to about $1.25 billion in construction costs. About half the units have been sold already.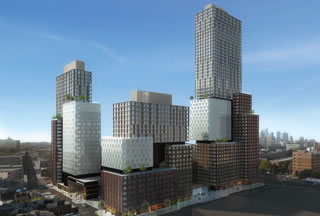 B2 Atlantic Yards Tower
No. of Stories: 32
Use: Residential
Location: Brooklyn, NY
Completion Date: Late 2015
LEED: LEED Silver anticipated
Team: SHoP Architects, Skanska USA, Forest City Ratner Companies
Features: 130 studio apartments, 180 one-bedroom units, 20 twobedroom units, roof terrace, yoga studio
Nearly 60% of the B2 Atlantic Yards Tower will be prefabricated offsite, making this the world's tallest modular high-rise. It's estimated that the tower will reduce energy consumption by 67%, and produce 70% to 90% less waste during the construction phase. There isn't much controversy about the building itself, but there is much industry debate about the modular strategy itself (namely because it will cut union worker wages due to moving construction from onsite into a factory, as well as reduce the number of workers needed to complete the project). Overall construction costs and energy use, however, will be cut drastically during the building phase.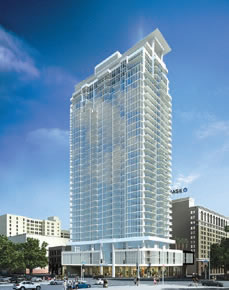 888 Olive
No. of Stories: 32
Use: Residential
Location: Los Angeles
Completion Date: Late 2015/early 2016
LEED: no
Team: Martinez + Cutri, Onni Group
Features: Ground-floor retail, 283 apartments with private balconies, swimming pool, fitness center
Experts say that 888 Olive is posed to do great things for downtown Los Angeles. It's an infill project that replaced a surface parking lot, acting as a bridge between Los Angeles' South Park and the Historic Core. Even though this area isn't historically a residential area, Onni Group Executive Vice President Chris Evans says he views 888 Olive as an opportunity. "Downtown Los Angeles will continue to evolve and grow, with shops, restaurants, and services adding to the overall community. Downtown living provides residents with the ability to live, work, and play all in one area. It also significantly reduces their daily commute." Evans says the building will be a rental property vs. condos due to demand for that type of space in the area.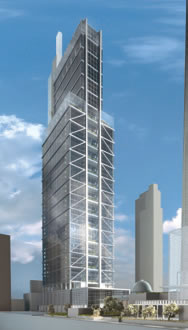 Comcast Innovation & Technology Center
No. of Stories: 59
Use: Mixed-use (office, hotel, retail)
Location: Philadelphia
Completion Date: 2017
LEED: LEED Platinum anticipated
Team: Foster + Partners, Liberty Property Trust, Comcast
Features: 126-foot glass blade on top, 47 total bike racks, 20% water-use reduction, three-story skygardens, underground parking spaces, three TV studios, top-floor restaurant, public reception space, links to below-ground public transportation system
On the list of top 10 tallest buildings in the country, the Comcast Innovation & Technology Center (CITC) will be No. 8 (and the tallest in Philadelphia). Commercial real estate professionals are welcoming the project as an enhancement for the local office market in Philadelphia. According to consulting firm Integra Realty Resources, demand for the 53 million square feet of office space that currently exists within Philadelphia's Center City has been rising over the past year. Commercial real estate information company CoStar says the average asking price for commercial space in Philadelphia's Center City has risen to $27.84 from $27.16 per square foot in 2012. CITC is expected to create 2,800 permanent jobs in Philadelphia.
Nine at Mary Brickell
No. of Stories: 34
Use: Residential
Location: Miami
LEED: LEED Silver anticipated
Completion Date: Late 2014
Team: Nick Luaces Design Associates, Lynd, Starwood Capital Group
Features: 390 units, one acre recreation deck with pavilions, media lounge, fitness center including cardio machines with integrated touchscreen TVs, state-of-the-art videoconferencing, dedicated yoga studio
The 11th floor of Nine at Mary Brickell, the first residential condominium in Miami's Mary Brickell Village, will most likely be one of the tower's most popular amenities. On this level, a one-acre private park is designed as a series of linked terraces, offering intimate views of Mary Brickell Village, the Brickell skyline, and Biscayne Bay. It also features an enclosed dog run where residents can exercise their pets without having to leave the building, along with a zen garden, walking paths, and landscaped and furnished lounging, swimming, dining, and socializing areas. Residents can also enjoy barbecue grills, fire pits, and poolside massage therapy.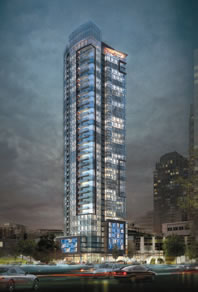 2030 8th Avenue
No. of Stories: 39
Use: Residential
Location: Seattle
Completion Date: 2015
LEED: LEED Silver anticipated
Team: Weber Thompson, GID Development Group, Sellen Construction Company
Features: 335 units, rooftop terrace with a water garden, pet spa, catering kitchen
What makes this building so unique is its small site. A 440-foot tower is emerging from a 120-foot by 128-foot spot. The building happens to be GID Development Group's first project in Seattle, and is directly across from the 3.3-million-square-foot Amazon campus currently under development. The 2030 8th Avenue project began before Amazon announced plans to develop there, but GID knew Amazon was leasing space all around the site; the team figured that Amazon was likely to eventually develop property nearby.
In addition to being Amazon's neighbors, 2030 8th Avenue will also offer a streetcar connection to the bus tunnel/light rail, making it pedestrianand transit-friendly. "Windsor Communities is the management company under the GID umbrella," explains Gary Lovesky, vice president and director of construction at GID. "They have been involved in all aspects of the design from early in the process."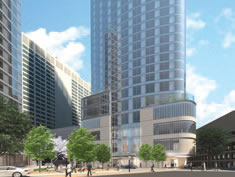 Christian Science Plaza Tower
No. of Stories: 58
Use: Mixed-use (hotel/residential)
Location: Boston
Completion Date: 2017
LEED: no
Team: Pei Cobb Freed & Partners, Cambridge Seven Associates, Carpenter and Company, Christian Science Church
Features: 170 condos, 250 hotel rooms
Part of the Christian Science Church's plans to revitalize its world headquarters plaza in Boston, the Christian Science Plaza Tower is being built at the edge of the plaza. It will be the city's tallest residential building, and the tallest building built in Boston in more than 20 years. Its shape was designed to complement the adjacent Christian Science Church, reflecting an equilateral triangle with rounded corners. The orientation and design of the building was also carefully considered so that shadows created by the building fall mostly on nearby hotels – not on the plaza. "Our goal is to create some very significant architecture that will frame the plaza, which is one of Boston's most precious resources," says Richard Friedman, president of Carpenter & Company.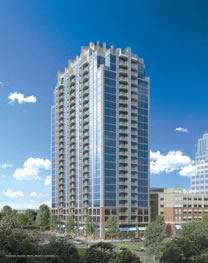 SkyHouse Uptown
No. of Stories: 24
Use: Residential
Location: Charlotte, NC
Completion Date: 2015
LEED: no
Team: Smallwood, Reynolds, Stewart, Stewart; Batson-Cook Construction; Grubb Properties; Novare Group
Features: one-, two-, and threebedroom units (336 total); "SkyHouse" with a club room, fitness area, and outdoor plazas with pools, fireplaces, and covered lounges; built to ENERGY STAR specs
SkyHouse Uptown is one of 11 similar projects across the country aimed at young, single workers. Novare Group and Batson-Cook Construction have teamed up to build 10 other SkyHouse apartment complexes in Atlanta, Austin, Dallas, Houston, Orlando, Raleigh, and Tampa. These SkyHouse towers are being built in urban locations where strong economic and demographic trends favor in-town living, but high-rise apartment costs may be difficult for the younger population to afford. Thanks to lean construction techniques, a shortened build-time allows SkyHouse projects to be delivered quickly and affordably. SkyHouse Uptown broke ground in May 2014, and expects tenants in early 2015.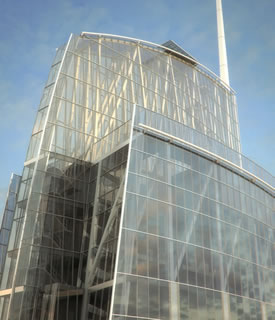 Wilshire Grand Center
No. of Stories: 73
Use: Mixed-use (hotel, retail, office)
Location: Los Angeles
Completion Date: 2017
LEED: LEED Silver anticipated
Team: AC Martin Partners, Korean Air, Turner Construction, Thornton Tomasetti, Brandow & Johnston
Features: 900 hotel rooms, sail-shaped crown illuminated with LEDS at 1100 feet in the sky, LEDs embedded in exterior glass to display artwork and ads, panoramic sky lobby, double-deck elevator cabs
This building is already a record-setter. Not only is it going to be the tallest building in Los Angeles, but it also set a Guinness World Record in February 2014 when 21,200 cubic yards of concrete was poured in one continuous pour at the site, breaking a prior record of 21,000 cubic yards in 1999 in Las Vegas. It was such a big event that the USC marching band led a parade on Figueroa Street to start the continuous concrete pour.
Wilshire Grand Center is also the only high-rise in Los Angeles that won't have a traditional "flat roof" design. As a result of a fire ordinance in 1974, flat roofs have been required to accommodate rooftop helipads. The Wilshire Grand applied for and received an exception to that ordinance, thanks to its advanced life and fire safety technology (such as a "hardened" elevator shafts that can function during four hours of fire conditions). Deconstruction of the original Wilshire Grand Hotel building began in October 2012, and continued for a year. The new four-star Wilshire Grand Center will go up in its place, kick starting a new planned light and sign district in downtown Los Angeles.
Leah Grout Garris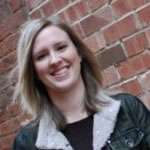 An award winning editor, Leah spent over eight years in senior editorial positions at both BUILDINGS magazine and ARCHI-TECH magazine. Her work has been incorporated into training and educational programs around the country. She is a graduate of University of Iowa. She is Editor at Large for High Rise Facilities.