Institutional real estate investment manager American Realty Advisors has dramatically reduced water consumption for its office property South Tryon Square, located at 201 S. Tryon in Charlotte, North Carolina.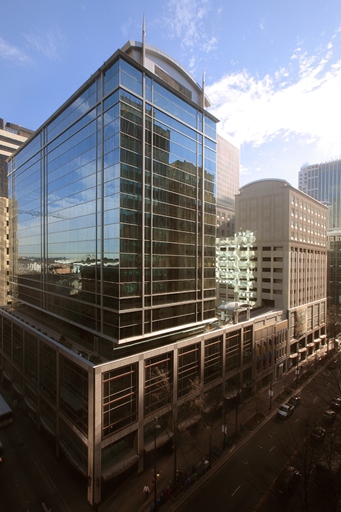 The firm reduced water consumption at South Tryon Square by 27 percent, and was recognized as a leader in water conservation by the Environmental Protection Agency.
"The need for water conservation is a growing concern across the U.S.," says Stanley Iezman, Chairman & CEO of American Realty Advisors. "According to a 2013 survey by the Government Accountability Office, 40 states expect to experience water shortages in the next decade."
Iezman continues, "The U.S. consumes a whopping 26 billion gallons of water daily, and commercial properties account for nearly 12 percent of that consumption. Based on these numbers, it's essential for asset managers to go beyond talking about sustainability, and instead find new ways to actually move the needle when it comes to water use reduction."
The South Tryon Square asset, a 236,697 square-foot, 15-story Class A office building, also features a nearby 11-story parking garage located at 237 S. Tryon. By evaluating the asset's water usage, water costs, and wastewater, American was able to identify key strategies to improve the property's overall efficiency, ultimately saving more than 1.4 million gallons of water annually, according to Iezman.
The firm replaced existing water fixtures with low flow water fixtures in each of the faucets and toilets throughout the building, and incorporated automated water faucets and soap dispensers in each restroom in order to achieve this milestone. In addition, American plans to replace 28 flush valves from 1.0 to 0.5 gallon in 2016 to further improve water conservation in this asset.
"By investing in the sustainability of our assets now, we are able to deliver deeper value to our investors by increasing net operating income and overall property values, while also reducing the negative impact our buildings have on the environment," notes Iezman.
Recently, South Tryon Square was recognized by the Environmental Protection Agency's 2014 National Building Competition: Battle of the Buildings, and was awarded an ENERGY STAR® award in water conservation.