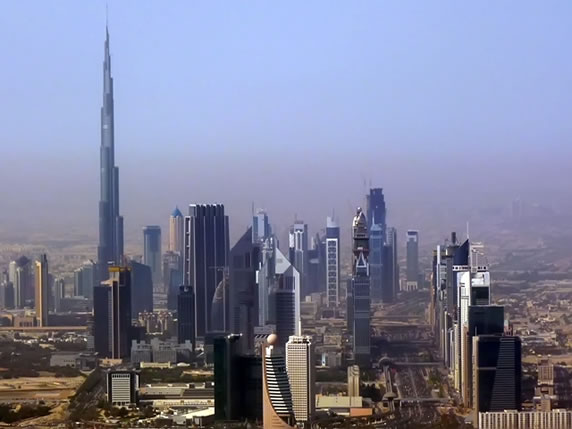 Within just decades Dubai has evolved from not much more than a strip of desert and sleepy fishing village into a bustling metropolis with a skyline boasting some of the tallest towers ever built. World record-breaking projects include the 828m Burj Khalifa, the tallest man-made structure, the 414m Princess Tower, the tallest all-residential building, and the 355m JW Marriott Marquis Dubai Hotel, the world's tallest hotel.
With property prices on the rebound and positive investor sentiment, Dubai's construction industry is making a comeback with stalled projects now being completed and developers announcing a number of new megaprojects for the city. Dubai ranks 5th in the number of tall buildings and skyscrapers after Hong-Kong, New York City, Tokyo and Chicago, with 909 high-rise and 448 skyscrapers. There are 223 new towers in the pipeline including the 1,050m Nakheel Tower.
Increased urbanization and rapid population growth have created a need to build tall, and with this a new set of design and construction challenges. These immense structures must support their weight, resist wind, earthquakes and fire, balance energy efficiency and cost yet also be conveniently accessible for occupants, providing utilities, and a comfortable living environment.
Such massive developments are making topics such as sustainable materials, innovative design, advanced technology and safety from fire rapidly popular. It is increasingly important that tall buildings connect with the urban fabric, integrating with the existing cityscape and reflect the nature of the city in which they are built.
Focusing on new projects and showcasing innovative yet sustainable products, Smart Skyscrapers Summit 2014 will bring together over 300 experts to network and share knowledge. Diamond Sponsor of the event; Knauf, a multinational producer of building materials and construction systems will be speaking at the conference highlighting the importance of Gypsum based building material products in walls and flooring. Riding high on 2013's steel revenue results, Platinum sponsor; Emirates Steel, leading steel manufacturer in the UAE will also be seen showcasing its product range and expertise in steel.
Charlene Corrin, Conference Producer at Expotrade Middle East, said in a statement: "There is a great amount of enthusiasm in the Middle East to develop sustainable, world-class tall buildings, with some of the world's most remarkable projects being planned here. It is the ideal time for local developers to learn from experts about innovative design principles, sustainability best practice and new building materials which will help to achieve these ambitious goals. Smart Skyscrapers Summit welcomes those organizations and individuals eager to share knowledge and network with key construction industry stakeholders."
Dubai will be hosting Smart Skyscrapers Summit 2014 on 28 & 29 April 2014 at Sofitel Dubai The Palm Resort & Spa attracting over 300 senior architects, engineers, policy-makers, developers, contractors and building managers from across the GCC region. The conference will see presentations and case studies from local and international thought-leaders, a showcase of the most innovative building technologies and solutions from around the world. Visit www.smartskyscrapers.com for more information.