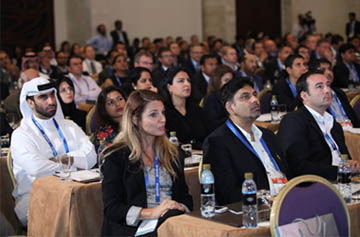 The 2nd Annual Smart Skyscrapers Summit returns to Dubai early next week at Sofitel Dubai The Palm Resort and Spa on May 11 and 12, 2015. Held under the patronage of the Dubai Municipality, the summit is produced by global event organizers, Expotrade, with over 300 senior architects, engineers, policy-makers, developers, contractors and building managers from across the GCC expected to attend.
The summit will be inaugurated by Abdullah Al Rafia, Assistant Director General - Engineering and Planning Department, Dubai Municipality.
The two-day by-invitation-only summit's agenda features a series of thought-provoking presentations, case studies and panel discussions focused on bringing into the limelight the latest advancements in skyscraper technology. At the heart of the summit is sustainability, with topics on the agenda shedding new light on issues such as construction challenges, intelligent transit, safety, innovative technology, energy efficiency, trends in architecture and much more.
Speakers and panelists include Ahmad K Abdelrazaq, Sr. Executive Vice President, Samsung C & T; Wassim Aboushaar, Executive Managing Director, Schindler Middle East; Saeed Alabbar, Director, AESG; Simon Lay, Director – Fire Engineering, AECOM; Abdulmajid Karanouh, Director - Head of Façade, Ramboll Middle East; Rudi Clayton, Manager Marketing & Exports, SULB Company; Dr. Yasser Mahgoub, Head of Architecture and Urban Planning, College of Engineering, Qatar University; Johannes de Jong, Head of Technology, Major Projects, KONE; Dr. Montasser Hussein El-Raie, Projects Manager, Khatib & Alami; Matthew Neidlinger, Director - Marketing MEA, Emerson Climate Technologies; Nawras Rimawi, Director, Al-Jazeera Paints Academy; Matthew David Carton, Specification Manager, Kansai Paint MENA & CIS; Errol Bull, Architectural Engineer, Technical Services Manager, GE Construction Sealants; Gabor Andrasi, Sales and Marketing Director - Africa & Middle East, Guardian; Rafic Hanbali, Managing Partner, Emirates Insolaire; Wulf Binder, Sales Manager – Architecture, Novelis; Phillip Jones, Principal & Managing Director, Middle East & North Africa, B+H Architects, and many more.
This year's edition features a greater number of partnerships with major companies such as Schindler, SULB Company, KONE, Al-Jazeera Paints, Emerson Climate Technologies, Kansai Paint, GE Sealants, Guardian, Emirates Insolaire, UTC Building & Industrial Systems, Vision Project Services, Novelis and many more. The exhibitor lounge will feature over 25 solution-providers showcasing their innovative product ranges for the benefit of the audience.
Brad Hariharan, Regional Director, Expotrade Middle East, organizers of the conference, said, "The Smart Skyscrapers Summit focuses on highlighting challenges and solutions in sustainable skyscraper development. We are privileged to be supported in this regard this year by the Dubai Municipality. We look forward to bringing a platform to showcase the best in skyscraper technology to our audience."