Emergency lights and exit signs are one of the most integral, yet overlooked, elements of a building's life safety program. When the Occupational Safety and Health Association (OSHA) fines your business for non-compliant emergency lighting, it can cost up to $7,000 for a first-time violation and as much as $70,000 for a repeat violation.
"Much like a fire extinguisher, emergency lights often do not get much attention until they are needed," said Jamie Samide, Senior Director of Marketing, Cintas Corporation, a provider of fire protection and life safety services. "Neglect of your facility's emergency lighting puts your business at serious risk of fines, injuries to building occupants and workers, and resulting legal action."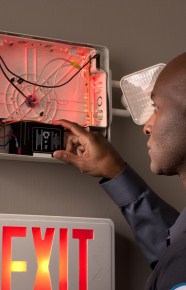 Here are our key considerations every facility manager should take to keep their emergency lighting systems compliant with National Fire Protection Association (NFPA) and OSHA regulations:
Make sure that all exit paths are adequately lit
There are three areas that should be lighted well enough during a power outage that employees with normal vision can see. This includes exit access (leading up to the exit), the exit itself, and the exit discharge (outside of the exit). Emergency lights should turn on automatically within 10 seconds of a power outage and last for at least 1.5 hours. Exit routes must also remain visible during any construction or building repairs. In addition to the path of egress, it is important to have emergency lights in enclosed areas, such as stairwells, corridors, and lobbies, to ensure occupants can find a safe path of egress.
Post signage around the facility
Post signs indicating the direction of the nearest exit if it is not obvious. If there are doorways or passages along the exit route that might be mistaken for an exit, post a sign indicating their actual use. NFPA 101 Emergency Illumination Standards require the exit be clearly marked by a sign with the word "exit" that is not decorated or obstructed from sight. Just like emergency lights, exit signs must be illuminated by a reliable light source that will stay lit in the event of a power outage.
Ensure regular inspections
The proper maintenance of emergency lights and exit signs greatly reduces the risk of liability for fines, injuries, and lawsuits in a business. A quick visual check for physical damage to the exterior of the emergency lighting units and a battery test is required to be conducted on a monthly basis. Regulations mandate a more thorough annual inspection. This includes checking the tightness and cleanliness of battery terminals, measuring the "float voltage" (the constant voltage that is applied continuously to a battery cell), and performing a battery load test that simulates the unit being lit on battery backup for 90 minutes. Bulbs and batteries should also be replaced as needed.
Document, document, document
It is important to keep clear documentation of all monthly and annual inspections and maintain a file where records can be easily located. This documentation will serve as proof that the required work was performed should an incident occur, reducing the building manager's liability. A certified fire technician should provide documentation noting the unit tested, date of service, type of service performed, and his or her name to certify the completion of the job.
"In addition to fines, injuries, and legal consequences, an avoidable disaster from neglect of emergency lights can seriously damage a business's reputation," added Samide. "Keep your business, people, and image protected with an inspection program from a reputable service provider."