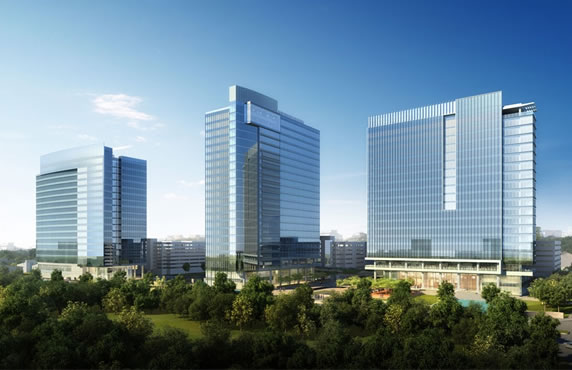 Trammell Crow Company has started construction on Energy Center Five, a speculative Class A, 18 story office tower located on North Eldridge Parkway, just south of Interstate 10, and adjacent to Energy Center Three and Four. Completion is scheduled for 2Q 2016.
"Energy Center Five is the fifth and final phase of office development we will deliver with Principal Real Estate Investors in the Energy Corridor," said Aaron Thielhorn, Managing Director with Trammell Crow Company's Houston Business Unit. "We entered the Energy Corridor submarket more than eight years ago and have experienced the ongoing economic expansion, employment growth, and exceptional real estate fundamentals that have allowed us to be successful in creating office building assets that have attracted quality companies and employees."
Energy Center Five, designed by Kirksey Architects, will be a 524,397 square foot office building, which will feature a curved glass curtain wall façade above a two story limestone base. The lower three floors will have expanded 18 foot floor heights in order to accommodate a variety of planned amenities such as dining, conferencing rooms and a fitness center. A double story ground floor lobby, wrapping around two sides of the building, will provide a unique opportunity to display a custom art installation.
Similar to the adjacent Energy Center Three and Four buildings, Energy Center Five is pre-certified LEED Gold and boasts a number of energy efficient design elements that are incorporated into the exterior, such as aluminum sunshades, ceramic frit, and high efficiency LED accent lighting.
Given its prime location, Energy Center Five is oriented on the site to provide excellent visibility from Interstate 10 as well as maximizing views of downtown Houston along its east facade. Multiple elements such as landscaped pedestrian pathways, water sculptures, bridges, and plazas connect the adjacent buildings creating a holistic campus, while providing each building its own unique identity.
"We are pleased to announce the final phase of our project with Trammell Crow Company," said Joe Wanninger, Assistant Managing Director/Asset Management with Principal Real Estate Investors. "Energy Center Five provides tenants with a wide-range of first-class amenities in a great location. The Energy Corridor boasts a thriving business environment, making its location a competitive advantage for energy services, engineering, and exploration and production companies."
As part of a national, Class A office and industrial building development program, Trammell Crow Company and Principal Real Estate Investors have developed over 4.1 million square feet of Class A office buildings throughout Houston, including Energy Center One, Two, Three and Four, totaling 2.3 million square feet in the Energy Corridor, Hess Tower in downtown Houston and Noble Energy Center One and Two in northwest Houston.
Construction financing was provided by a syndication of Wells Fargo Bank and U.S. Bank. Balfour Beatty Construction is serving as the project's general contractor.
Aaron Thielhorn, Brandon Houston, Kevin Schmok, and Tommy Lee with Trammell Crow Company and Joe Wanninger with Principal Real Estate Investors will lead the development team. Leasing will be handled by Cody Armbrister and Steve Rocher with CBRE's Houston office.