Newmark Grubb Knight Frank (NGKF) is marketing for sale a 12-story art deco-style historic high-rise located at 403 W. 8th St. in downtown Los Angeles. Known as the "Garfield Building", the now-vacant property is centrally located in the Broadway and South Park areas. The approximately 102,000-square-foot building, built in 1929 and designed by the prominent architect Claud Beelman, combines Art Deco geometry with the floral swirl of Art Nouveau style.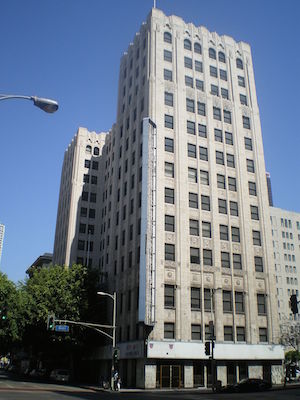 Due to its unique design, the building is expected to set a record sales price for an historic asset of its kind, according to NGKF Managing Directors Gibran Begum and Christopher D. Beck who are listing the tower in cooperation with Jim Halferty, principal, and Mike D. Smith, principal, of Lee & Associates.
"The iconic Garfield Building represents one of the last great historic structures available for redevelopment in downtown's prime corridor," said Begum. "This beautiful building has been on everyone's wish list for over a decade and although the owner, a private investor, had received previous offers he wasn't ready to take it to market until now."
Begum, a specialist in Los Angeles historic buildings added, "The Garfield Building is well-positioned for hotel, residential or creative office redevelopment. It benefits from both the old-and-the-new: the authenticity of its timeless architecture while being surrounded by exciting new amenities and developments such as Downtown's first Whole Foods, restaurant Bottega Louie, LA Athletic Club, the ACE Hotel, Broadway's revitalization, and the emerging dominance of 7th Street's Restaurant Row."
The Garfield offering follows a strong redevelopment land-grab trend occurring in downtown Los Angeles that is seeing older buildings being converted into new uses for office, housing and retail.
Hotel redevelopment has been a significant draw and the listing team said that it has already strong interest from many prominent hotel groups.
Other recent redevelopments in the area include Sydell Group's purchase of the Giannini Building on 7th Street for a boutique hotel conversion; Hudson Pacific Properties' purchase and planned conversion of the Coca Cola warehouse building in the Arts District into office space; and Chinese developer Shenglong Group's purchase of a building at 12th Avenue and Grand Street for eventual development of condominiums.
Image: Wikipedia