Concrete, brick, steel, and low-e glass can all block or distort signals – whether wireless, cellular, or RF. In tall towers that accommodate a large number of tenants or occupants, the demand on wireless infrastructure can also slow or impair signal strength. Combine these two factors, and reliable signal strength is an issue that many high-rise facilities struggle with.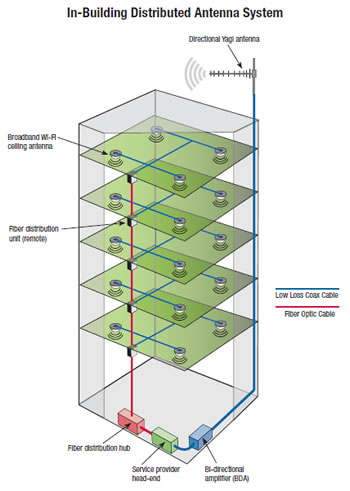 To improve connectivity, in-building wireless solutions that boost signal strength have become a viable option in the last decade.
Two types of in-building wireless systems exist: passive and active. Passive systems work to strengthen existing signals from the nearest already-existing cell tower. Active systems create a small cell tower specifically for a building or campus, which adds capacity to the network.
"DAS works by splitting up a facility into zones, ranging from a dozen to multiple dozens, depending on the building," says Chad Townes, vice president of AT&T's Antenna Solutions Group. "Each zone then gets its own antenna in order to amplify coverage within the venue."
Often referred to as a distributed antenna system (DAS), active systems are becoming increasingly popular. Depending on the type of signal, they usually include three components: a central distribution unit similar to what is used at the base of a cell tower (an amplifier or signal booster), a network of antennas, and directional couplers or signal splitters connecting the signal booster and antennas. DAS equipment breaks down the signal and uses fiber, coax, or CAT6 to distribute the signal to small, scattered antennas in multiple zones throughout a building vs. using just one antenna. DAS provides coverage over the same area as a single antenna, but with better reliability by eliminating dead zones and reduced total power (due to less power being wasted in overcoming penetration and shadowing losses).
Because it's a frequency-based system, DAS doesn't "understand" or modify voice or data traffic, making it a secure option. Townes also emphasizes that neutral host networks allow any mobile carriers to join the system.
In-Building Wireless in Action
Vornado Realty, owner of 731 Lexington Avenue (also known as Bloomberg Tower) in Manhattan, recognized the need to enhance wireless device capability in the 55-story glass tower. The building also houses retail outlets, restaurants and 105 luxury condominiums. The residences, are known as One Beacon Court. The use of wireless devices has increased dramatically since the tower was built a decade ago, and materials used in building construction aren't conducive to strong signals.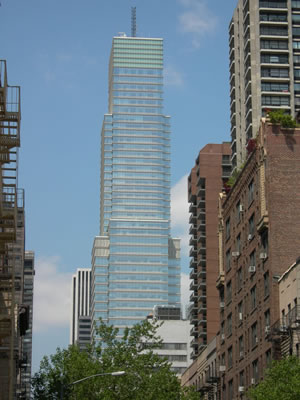 With office tenants such as Citigroup, Home Depot, Bloomberg LP, and Wachovia, and residential tenants like NBC News Anchor Brian Williams, Beyoncé, and MLB outfielder Johnny Damon, blocked wireless signals weren't an option. Vornado also wanted to ensure that two-way radios communicated effectively in the event of an emergency.
To improve wireless infrastructure across the tower's 1.4 million square feet of space, Vornado invested in an in-building distributed antenna system that enables strong smartphone, two-way radio, first-responder, and wireless signals. All major cellular carriers can plug into the system so that tenants can use their phones anywhere in the tower: center areas of the building, elevators, stairwells, and even in the under-ground parking garages.
Business and personal calls are no longer dropped, and laptops can connect to the network regardless of location within the tower. Vornado also anticipates being able to support new wireless technology and standards in the future, eliminating the need to install a separate system for each new technology.
New in In-Building Wireless
Unified wireless infrastructure platforms are now being designed around IT-based structured cabling. With this advancement, organizations may be able to rely on their own in-house IT professionals to deploy in-building systems rather than relying on third-party providers with specialized experience. IT staff will also be able to make adjustments – like adding network capacity – as needed to accommodate changing office layouts, moves/adds/changes, etc. This technology unites wireless and power, plus Gigabit Ethernet for WiFi, onto one network that can scale to any building size.
Diagram courtesy of L-Com