Affiliates of the Paris-based holding company FIMALAC purchased 693 Fifth Avenue, a boutique office tower located in the Plaza District, from Thor Equities for $527 million.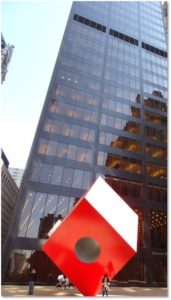 The buyer was advised by Savitt Partners' Michael Dubin and Bob Conover. Simultaneous to the acquisition, the new ownership appointed Savitt Partners as the exclusive leasing and management agency for the irreplaceable, high-profile boutique office tower.
Located between East 54th and East 55th Streets in the heart of the Plaza District, the 20-story, 105,500-square-foot office tower is home to international fashion designer Valentino, London-based art gallery Carpenters Workshop, and David Chipperfield Designs. The property is steps from Rockefeller Center, Central Park and the Museum of Modern Art and features a newly designed lobby, common areas and elevators. Affiliates of FIMALAC are acquiring the property as a generational investment and Savitt Partners will work closely with the owner to attract upscale tenants that would complement the existing occupancy, as well as further enhance the overall value and cache of the property.
"693 Fifth Avenue is a real estate asset that can never be duplicated," said Mr. Dubin. "From its central location, in the heart of the Plaza District, to the high-profile tenants occupying retail and office space, this property is a true gem in the market. We believe that in working closely with FIMALAC we will be able to further enhance the value of this incredible asset."
693 Fifth Avenue currently has six full floors ranging in size between 5,000 square feet and 6,000 square feet with ceiling heights of 13-15 feetfor immediate lease and occupancy. The ninth floor space is unique as it boasts a beautiful terrace with amazing city views.
Darcy Stacom and Marcella Fasulo of CBRE's Investment Properties Group represented and marketed the building on behalf of Thor Equities, while Shawn Rosenthal and Jason Gaccione of CBRE's Debt & Structured Finance Group arranged financing for the acquisition.
Steven L. Wilnerand Laura A. Koehler of the law firm Cleary Gottlieb Steen & Hamilton LLPrepresented affiliates of FIMALAC. Morris Missryand Warren Barrows from WachtelMissry represented Thor Equities.