Trammell Crow Company and Principal Real Estate Investors are developing downtown Austin's newest office tower, the Gentler-designed 500 W. 2nd Street, which will feature 489,403 square feet of Class A speculative office space and 11,033 square feet of ground floor restaurant/retail space. The building is scheduled to be complete by 1Q 2017.
The 29-story office tower reached a significant construction milestone recently and made history in the process. In order to lay the foundation for 500 W. 2nd Street, construction manager The Beck Group coordinated downtown Austin's largest-ever continuous concrete foundation pour. The construction process placed more than 10,680 cubic yards of concrete in just over 24 hours.
The resulting monumental foundation slab is more than nine feet deep and holds more than 1,200 tons of rebar support.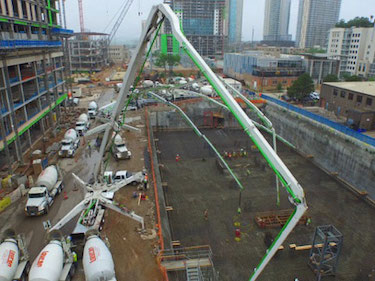 Floor plates in the office tower will be among the largest in downtown Austin averaging approximately 32,500 square feet. Seven outdoor terraces on six different levels throughout the building will offer tenants unique amenity spaces with views of Lady Bird Lake, the Hill Country and downtown. The building will feature two parking levels below grade and 12 parking levels above grade with access from both San Antonio and Nueces Streets.
The lobby of 500 W. 2nd Street includes a two-story, 26 foot tall frameless glass wall with modern finishes bringing the natural environment and vibrancy of 2nd Street into the lobby.
A portion of the 14th floor will serve as tenant amenity space with a flexible 8,628 square foot conference center and great room including a 2,739 square foot outdoor terrace overlooking Lady Bird Lake. In addition, the building will offer tenants a fitness center with locker rooms and showers on the mezzanine level.
500 W. 2nd Street will also feature Austin's first elevator destination control system optimized for people flow and designed to save time with added efficiency.
500 W. 2nd Street is the second of four phases of a master planned project for the former Thomas Green Water Treatment Plant. Construction on the first phase, a three-tiered mixed-use tower with approximately 440 apartments, including 50 affordable units and more than 40,000 square feet of office and retail space known as Northshore, began earlier this year and is set to deliver 4Q 2015. Once completed, the entire master planned project will be comprised of more than 1.7 million square feet of mixed-use commercial development.
The development team will seek LEED Gold certification and an Austin Energy Green Building 2-Star rating offering lower operating costs and increased employee wellness and productivity.
Vertical construction will begin soon, with two tower cranes to erect on site this week.