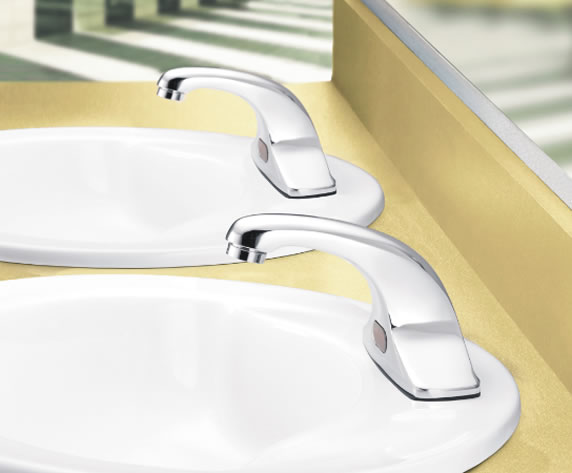 It may seem like all touchless restroom faucet fixtures are created equal (and have been that way for the past few years). Recently, however, manufacturers have unveiled new technology that offers helpful benefits and savings for facilities professionals.
The latest commercial faucet lines offer smart fixtures that don't just dispense water for hand-washing – they interact and communicate with building tenants and occupants, and making maintenance easier and less time-consuming. Are any of these fixture trends being considered for your next restroom remodel project?
Service with a Single Tool
With some of the newer touchless faucets, a single Allen wrench is all that's needed to access to the key components of the faucet, such as the on-board electronics. No additional tools are required to shut off the water supply or change any components, which makes repairs and maintenance go faster.
Harnessing Green Power
To power eco-minded electronic faucets, some manufacturers are offering power-harvesting options to suit the energy-efficiency needs of high-rises. Solar/photovoltaic technology can be integrated into commercial restroom faucets to harness power from ambient light, including incandescent, fluorescent, halogen, and LED lamps; turbine/hydraulic technology can be integrated in order to harness power from the water supply itself. These power-harvesting options extend battery life while allowing faucets to use water more efficiently.
Valuable LED Diagnostics
The newest lines of touchless faucets can display diagnostics externally on the faucet, offering immediate feedback as to any problems with the fixture. These LED indicators provide real-time updates regarding the condition and status of key faucet components, like battery power or solenoid latch failure. They can also let facilities managers know about possible calibration issues or water hold within the faucet.
Line Purge Options
Recent commercial faucet models include a purge function that eliminates the stagnant water sitting in the plumbing lines; this water can ultimately lead to bacterial growth, and eliminating it reduces exposure for tenants and occupants.
Putting Faucets to Sleep
With one touch, maintenance and custodial staff can send commercial faucets into "sleep mode," temporarily turning off the water supply in order to clean sink areas or perform maintenance without unnecessarily turning on the water flow.
User Feedback Displays
Enhanced features, like LCDs embedded into each individual faucet, now dynamically communicate information to building tenants and occupants (or whoever is using the faucet). These displays can show information about wash time, water temperature, etc.
All-in-One Fixtures
Combining soap, the faucet, and the hand dryer into one unit is a trend that helps keep high-rise restroom floors drier and safer. Because an all-in-one fixture eliminates dripping water by keeping hands in the sink area until they're dry, tenants and occupants don't have to worry about stepping through puddles of water to get in and out of the restroom.
Smart Infrared Sensors
Instead of relying on fixed settings, advanced infrared sensors integrated into new faucets can actually adapt to their environment (low lighting, high reflectivity. After analyzing the surrounding area, this technology calibrates the faucet's sensor to eliminate the possibility of false actuations and optimize the faucet's performance.
Touchless Temperature Controls
New technology allows visitors to adjust water temperature on touchless faucets by using a lever. An illuminated color ring (blue/red) visually indicates water temperature. Other models feature temperature control via blue or red LEDs located on the faucet. When a tenant or occupant places a hand near one of the LEDs, the faucet automatically adjusts water temperature accordingly.
Wall-Mounted Fixtures
Although they've been available for decades, wall-mounted fixtures are being used more often in commercial restrooms. With solenoid and water connections accessible above-deck, wall-mount fixtures eliminate the plumbing and wiring boxes underneath the sink. They also make cleaning easier, saving maintenance staff time. Key components are still accessible by removing the faucet's crown.
Leah Grout Garris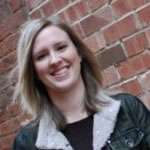 An award winning editor, Leah spent over eight years in senior editorial positions at both BUILDINGS magazine and ARCHI-TECH magazine. Her work has been incorporated into training and educational programs around the country. She is a graduate of University of Iowa. She is Editor at Large for High Rise Facilities.