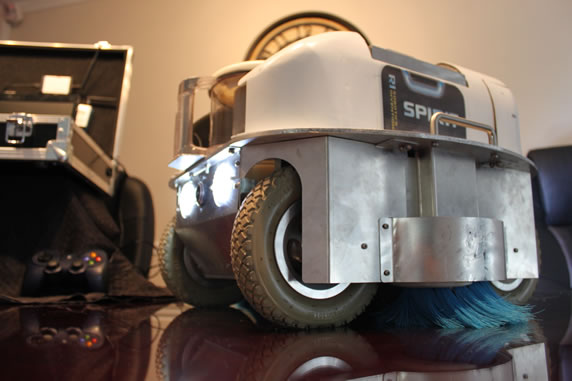 Martins Maintenance is one of the largest family-run commercial cleaning companies in the northeast with over 200 clients in 10 states. Among those clients is a Fortune 500 company occupying a high-rise office building. The firm called on the aid of Manuel Martins Jr. and Jordan Amaral to help solve an interesting problem at their 600,000 square foot facility.
The uncle-nephew duo were shown a particular type of raised floor that they had never seen before; an Underfloor Air Distribution System. The Center for the Built Environment at the University of California, Berkeley describes Underfloor air distribution (UFAD) as "a method of delivering space conditioning in offices and other commercial buildings. This technology uses the open space (underfloor plenum) between the structural concrete slab and the underside of a raised access floor system to deliver conditioned air directly into the occupied zone of the building. Air can be delivered through a variety of supply outlets located at floor level." The customer wanted to know if this sub-floor space needed to be cleaned and if so, how?
Manuel and Jordan's research into raised floor HVAC system cleaning led to the discovery of some alarming facts. The United States General Services Administration had developed a guide for buildings that have raised access floors. In this guide, they mentioned that over time the space beneath the floor "may become contaminated with airborne dust, insect colonies, vermin, microbial growth, moisture, or other foreign materials," posing a threat to the building's indoor air quality. It became clear to Manuel and Jordan that these types of contaminates are serious and need to be dealt with at any cost to avoid poor indoor air quality, liability issues, instances of sick building syndrome, absenteeism, and poor productivity. The question remained, how do facility managers clean this space?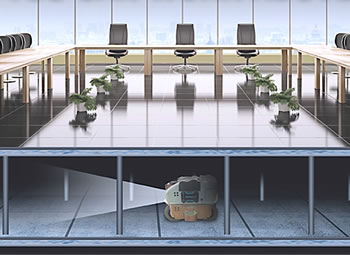 Back at the customer's firm, Manuel and Jordan found themselves at a large conference room table amongst 15 professionals from around the country to determine how the UFAD space can be cleaned. Most of those in attendance pointed to data room maintenance professionals who clean the entire sub-floor manually. These companies lift individual floor tiles one by one and clean the space with traditional vacuums and hoses. Using these existing methods, the cost of cleaning the under floor HVAC system would be approximately $1.25 - $2 per square foot. At 600,000 square feet, the firm's facility managers were uneasy about spending almost $1 million to clean the space beneath the floor. Jordan and Manuel saw this as a major opportunity. They were convinced that there had to be a better way.
After some brainstorming, Manuel and Jordan decided that a remote controlled robotic vacuum would be able to complete the service for less than half that of the conventional cost. On a whim, they presented their idea to the firm's executives and were given the green light to begin the project.
They quickly assembled a team of Polish engineers to build the prototype but working with a team of designers on another continent presented its own challenges. "The difference maker in bridging the communication and even language barrier across continents is persistence. Twice a week we would Skype with our engineers to oversee the design and development of our prototype. It was as if their laboratory in Poland were just down the street," Jordan recalled.
Over the course of the prototyping and testing phase, many design and electrical components had to be tweaked by Jordan himself with the aid of an engineer via webcam. These tasks included everything from soldering and rewiring to taking voltage measurements of the components. After two BETA robots, Purifad was able to turn their working prototype into a fully functioning, raised floor-cleaning behemoth. "My grandfather has always taught our family that whenever you do something, you do it right the first time, Jordan said. "We quickly realized, however, that when it comes to robotics, sometimes it could take two or three prototypes to get everything just perfect. If we were to deny this, we would be doing the customer a disservice. This is why we did not rest until we were absolutely certain that this was the best robot we possibly could develop before introducing it to our customers."
The robot itself is equipped with a high-powered vacuum and four spinning brushes that ensure that every stubborn dust particle is lifted off of the concrete surface. A robot operator above the floor controls the machine via laptop and gaming control. The robot has cameras that are mounted on the front and rear of the machine that send a video feed to the laptop. The laptop then displays the video on the screen while simultaneously recording the entire service using DVR technology. The operator uses a GPS mapping system to not only keep track of where the robot is under the floor at all times, but also to mark areas where larger debris (such as sheetrock or dead mice) are under the floor for manual removal.
Manuel stated, "Our team does a great job of putting the customer first by being considering every single need or obstacle that may arise during the service and developing the technology necessary to execute with precision."
Jordan added, "We'd removed almost 250 pounds of dust, 8 feet of fiberglass insulation, and 35 dead mice from a floor that was only 3 years old with the help of our technology. That really opened our eyes and made us realize that we needed to create a business and spread the word."
After the first service, Manuel and Jordan patented the technology and created an entirely new company called Purifad. At a cleaning efficiency of 1,000 square feet per robot, per hour, Purifad's technology is the most advanced and cost effective raised floor cleaning solution on the market to date. Manuel and Jordan are busy attending trade shows and making appointments across the country to spread the word about their exciting new technology. Their goal is to spread awareness of the importance of inspecting and maintaining raised access floors and the availability of their technology that can decrease the cost by as much as 75%.