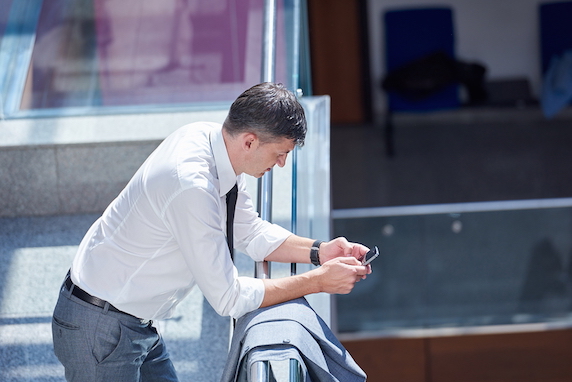 Mobile service subscribers – your tenants and occupants – demand clear, consistent mobile services no matter where they are. To address the demand of mobile coverage and capacity within high-rise buildings, distributed antenna systems (DAS) are being used to provide wireless coverage and capacity.
As bandwidth demands grow at unprecedented rates, solutions that can deliver strong, multi-technology, multi-band capacity are an ideal solution for residential and business subscribers (tenants in high-rise multifamily, office, and hospitality facilities, for example). A DAS brings the mobile signal indoors, delivering the coverage and capacity needed to satisfy a high-rise building's subscribers.
A digital, high-power DAS overcomes the challenges of high-rise deployments. In a digital DAS deployment, the head end is in the building's basement (or at an off-site base station hotel). The capacity from the mobile operators' radios (baseband units) is aggregated and transported digitally over fiber to distributed remote radio heads. From the DAS remote units (located in wiring closets on building floors), coaxial cabling connects to passive antennas in the building's ceiling.
Barriers to Clear & Consistent Mobile Services
Providing mobile coverage and capacity in high-rise buildings presents five key challenges.
Challenge No. 1: Subscriber Density
High numbers of subscribers within buildings place an excessive burden on the outdoor (macro) wireless network, reducing capacity for those outside the building. A high-power DAS provides dedicated capacity inside the building.
Challenge No. 2: Signal Dominance
High-rise buildings experience interference from nearby macro cell sites, so a tenant or occupant's device "hunts" between two or more macro signals and then fails to connect. A high-power DAS provides a dominant signal within the building. Devices no longer have to hunt between external signal sources and the in-building sources.
Challenge No. 3: Access
A typical high-rise tower has multiple tenants, each with its own preferences about how and when DAS deployment and maintenance personnel can access its space. Depending on the tenant, it can take days or weeks to gain access to a needed area (especially considering financial and government tenants).
Once access is granted, maintenance teams must deal with multiple equipment locations to perform troubleshooting or service. With a high-power DAS, the active electronics are installed in common, easy-to-access locations, such as telecom/maintenance rooms. With the active equipment in the telecom/maintenance room, the DAS uses no active electronics in occupied or private office ceilings, and fewer active elements in closets. The only ceiling component is a set of passive antennas that require no maintenance, so access to private tenant space for maintenance is no longer an issue. This allows deployment and maintenance to occur much faster.
Challenge No. 4: Neutral Host Capabilities
Major mobile operators may want to "own" an entire building by deploying a neutral host wireless system, requiring other mobile operators to lease access. Many systems products don't support additional operators without expensive and inconvenient forklift upgrades to the equipment. A high-power DAS natively supports up to eight frequency bands, so mobile operators within the same frequency band can share the active electronics.
Challenge No. 5: Cost
Keeping the cost of wireless deployment to a minimum is ideal; therefore, an ideal solution isn't capital-prohibitive and has an attractive total cost of ownership throughout its lifespan. A high-power DAS provides both capital and operation savings.
The DAS's high-output power minimizes the need for a lot of antennas (typical buildings require only four to eight antennas per floor), fewer active elements, and the ability to share the electronics over multiple operators. As a result, the DAS costs less to purchase and deploy. In addition, a reduction in real estate costs can be realized by centralizing radio resources, common fiber transport equipment for multiple frequencies and protocols, and maximizing radio utilization.
Operation expenses can be saved by pooling of radio resources in one location, which saves on HVAC and electrical infrastructure. Additional savings include:
Monthly savings for leased space for radio equipment not owned by the mobile operator
Aggregated fronthaul/backhaul circuits and associated equipment
Centralized technician support for radio equipment
Maintenance costs, because all maintenance is done in the building wiring closets, where the DAS remote units are located
A high-power DAS provides a superior solution to the challenges of providing clear and consistent mobile services in high-rise buildings. As an active system that uses passive antenna points, it delivers mobile coverage and capacity without ceiling electronics, which simplifies access issues; it's also a less expensive DAS solution because it uses fewer components.
Dr. Boris Golubovic
Dr. Boris Golubovic is director for product management for wireless networks, and fellow, at TE Connectivity. He is a member of IEEE, a contributor to several industry standards, and has authored more than 20 peer-reviewed international technical publications and conference talks.