Valet Waste will be relocating their corporate headquarters to a full-floor at the 388,000 square foot, 22-story Wells Fargo Center in downtown Tampa.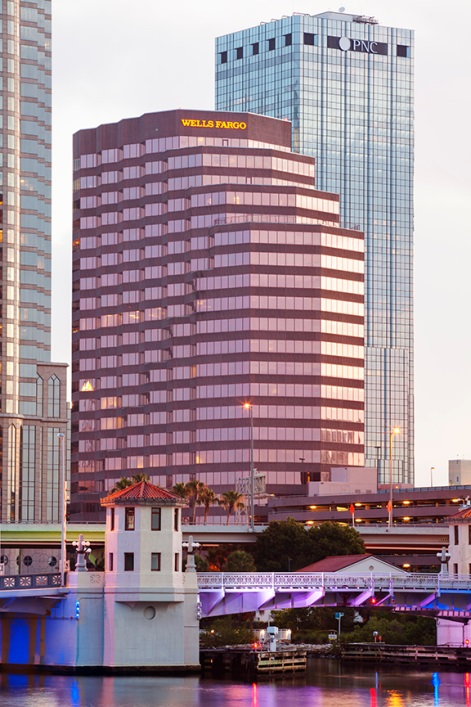 The firm, represented by co-brokers Mercedes Angell of Cushman & Wakefield and Abbey Dohring of The Dohring Group, leased 17,194 square feet.
The nation's leading provider of doorstep trash and recycling collection services, Valet Waste currently occupies three floors in another downtown Tampa location. "With our leases nearing expiration at our current location, we wanted to increase our efficiency and collaboration by consolidating all of our 40+ corporate employees onto one floor," stated Bill Clarke, the company's Chief Financial Officer.
The company began their search for a new headquarters location in July and plans to occupy their new space in early December. After visiting eight properties over the past few months, they narrowed the list to three locations including Wells Fargo Center. "The Feldman Equities team headed by Larry Feldman was a pleasure to work with throughout the entire lease process," according to Clarke. "They met all of our search objectives with an aggressive and fair proposal."
Feldman Equities, LLC and Tower Realty Partners have secured 58,422 square feet of leases (over half of the vacant office space) at Wells Fargo Center in downtown Tampa since purchasing the Class A office building in January. Anchored by Wells Fargo & Company, Phelps Dunbar and UBS, Wells Fargo Center is currently 87% leased with one of downtown Tampa's most desirable full floor vacancies.
Wells Fargo Center has recently undergone a multi-million dollar renovation involving the modernizing of the building systems and telecommunications infrastructure. Renovations to the multi-tenant corridors are nearly complete. The corridor renovations include new lighting, new carpeting, and bathroom upgrades. Also nearing completion are extensive upgrades to the building's leasing amenities including a new restaurant, a high-end fitness center and a major upgrade to the parking building's parking garage. Tenants will begin using the new facilities before year-end 2013.