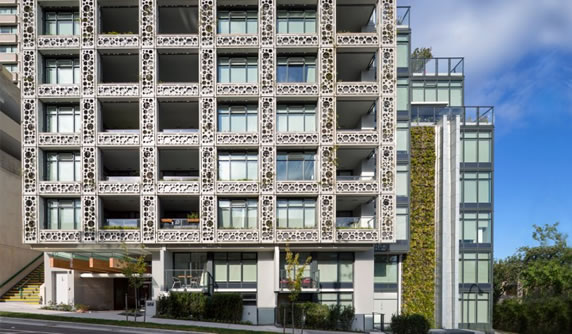 700 West 8th – 2411 Heather Street are two high-rise condo buildings designed by Henriquez Partners Architects and developed by Peterson Group and Westbank. Located in West Vancouver, British Columbia at the edge of False Creek, the towers offer beautiful city views and feature a newly designed "green wall" on the exterior of the 2411 building in an effort to restore the previous living wall.
According to the architect, the development's massing is broken down into two towers—17 stories and 12 stories—that are adjacent to the taller buildings along the busy thoroughfare of Broadway. This offers residents views of the North Shore Mountains, downtown, and the water while preserving the views of neighbouring developments. A lower, street-scaled terraced podium suits the residential context of West Eighth Avenue.
With ten townhouses, six non-market senior's apartments, and 106 market residential units, the project contributes to Vancouver's eco-density initiative. It brings an influx of people within walking distance of the shopping, offices, entertainment, and transit located along the busy Broadway/Cambie corridor.
Green walls and landscaped terraces and roofs were woven throughout the project. A large pool in the central courtyard reflects the sun, maximizing natural light. Sustainability features include geothermal heating and cooling, rainwater retention, and solar shading. Extensive planting walls were incorporated to animate the façade while lessening heating and air conditioning demands, but eventually one of the green walls needed to be replaced with a more durable system.
The new green wall was constructed by Vancouver-based GSky, which also has an office in Delray Beach, Florida. The business was founded based on the explosive growth of green technology, including green wall and green roof systems in Asia. 2411 Heather Street's green wall is a flexible, modular system that is designed to resist heavy winds, rain and earthquakes. The density of 12 plants per square foot allows for incredible design flexibility.
Designed by Debbie Kotalic, GSky's Director of Artistic Horticultural Design, the green wall features a combination of plants that each add a new dimension to the wall. The plant colors complement each other making it aesthetically pleasing without distracting from the natural beauty surrounding. The design is unique to this building allowing the green wall to cover a large area while preserving the original look and feel of the building.
A total of 3,780 different plants cover a 322 square-foot area of wall.The plants used include:
Fragaria Chiloensis 'Coastal'
Euonymus Fortunei 'Emerald & Gold'
Blechnum Spicant 'Deer Fern'
Heuchera Micrantha 'Palace Purple'
Euonymus Fortunei 'Emerald Gaiety'
Cotoneaster Dammeri 'Bearberry'
Dryopteris Erythrosora 'Autumn Fern'
The system is made up of 1 square foot stainless steel panels that can be customized to fit any design or wall type. The panels are filled with a non-eroding soil medium to ensure plant longevity, and to provide lower maintenance compared to loose soil systems.
After plants are selected, they are grown in the panels for several months at a nursery. As the time draws nearer to installation date, panels are moved to an environment with conditions similar to the location of the planned installation.
Computerized vertical drip irrigation system with temperature and moisture sensors allow for 24/7 remote monitoring and high efficiency since water is used only when needed.
The structural growth is designed to provide balanced air-to-moisture-to-solids ratio so that roots can develop uninhibited. As a result the wall at 2411 Heather Street is weather-resistant and able to withstand the rigors of a fluctuating outdoor environment.
"The location of the new green wall is a perfect enhancement to the beauty of area," said Chad Sichello, President of GSky Plant Systems. "With the stunning landscape of mountains and water, the green wall adds to the natural beauty of Vancouver."
Images courtesy of Henriquez Partners Architects and GSky