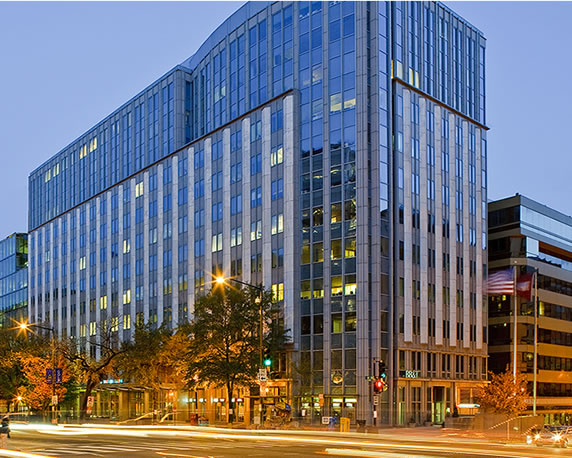 The Tower Companies' have installed a solar photovoltaic (PV) system on The Millennium Building, located at 1909 K Street NW in Washington, D.C. – the first of its kind inside the District. Tower hopes that the PV system will help improve the building's environmental footprint and reduce operating costs.
Built in 1973, The Millennium Building was The Tower Companies' first Green building project and is located downtown on the high visibility corner of 19th and K Streets. This 240,000 square foot "smart/green" Class A office building was renovated in 1997 and is Energy Star rated with a score of 86. The building is also LEED Gold Certified under Existing Buildings: Operations and Management ("EBOM") LEED-EB Certification.
The PV system, designed and installed by Maryland-based Astrum Solar, features 109 American made panels (270 watts each), with an estimated annual production of nearly 40,000 kWh. That's equivalent to operating three elevators in the building for one year. Tower decided to purchase instead of lease the system, which is a unique approach in the market. Tower has installed a live dashboard in the penthouse lobby, which will display the daily and on-going electricity generated and will act as a visible reminder of both the environmental and financial savings from this project.
Eugenia Gregorio, Director of Corporate Responsibility for The Tower Companies, said: "It's in our DNA as an organization. We strive to be in the forefront of the green building industry and have wanted to incorporate solar for a while now. When we combined the decreased cost of solar panels and the tax and SREC incentives available, the project just made good business sense and aligns with our environmental goals."
The project will contribute to the Sustainable DC Plan, and the long term goal of increasing renewable energy sources to 50% by 2032. According to the District Department of the Environment, there are more than 1200 PV systems in the District registered with the Renewable Portfolio Standard Program. That translates into approximately 9 MW of PV capacity.
Photo courtesy The Tower Companies