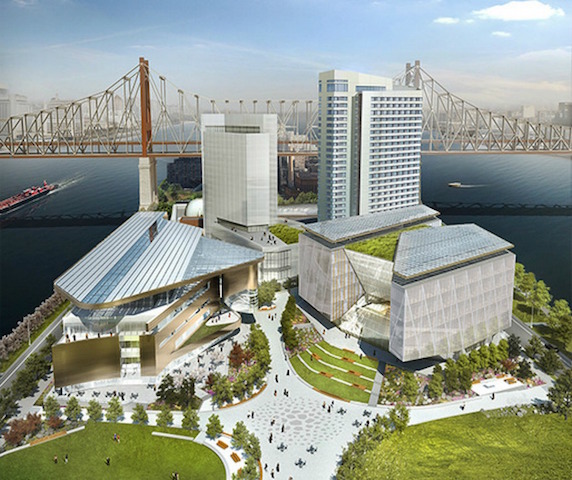 Construction has officially started on Cornell Tech's high-rise residential building on Roosevelt Island after a groundbreaking ceremony last Tuesday where NYC Mayor Bill de Blasio and former Mayor Michael Bloomberg made their first joint appearance. The 26-story, 352-unit residential high-rise will become the world's largest and tallest residential project certified by the Passive House Institute (PHI), and will house students, faculty and staff. The development will be part of Cornell University's Tech Campus.
Passive House (PH) is the strict international building standard that drastically reduces energy consumption while creating a healthier and more comfortable living environment for a fraction of residents' usual energy costs. Considered the most rigorous energy efficiency standard in the world, PH buildings consume 60 – 70 percent less energy than typical building stock, surpassing modern standards like LEED and NYSERDA.
To achieve Passive House standards, Cornell Tech Residential will incorporate a number of sustainability-focused design elements. The façade, constructed of a prefabricated metal panel system, acts as a thermally insulated blanket wrapping the building structure. At the southwest façade, facing Manhattan, the exterior façade opens to reveal a louver system that extends the entire height of the building. This reveal is designed to be the "gills" of the building, literally providing an enclosed exterior space where the heating and cooling equipment live, allowing the building system to breathe.
"Constructing the first Passive House residential high rise in the world is the latest and most exciting example of our effort to set new benchmarks in sustainability and innovation," said Cornell Tech Dean Daniel Huttenlocher. "We hope this will serve as a model for how Passive House standards can be brought to scale in the United States and create a new template for green design here in New York City."
"We have spent the past 2 years working with an incredible team of engineers and designers to establish this new standard for a 26 story building," said David Kramer, Principal of the Hudson Companies. "We hope that this boundary-pushing development will serve as a living lab and enduring inspiration to the community of next-generation problem solvers who will live within its (well insulated) walls."
The plans to achieve Passive House standards at Cornell Tech Residential were developed by a team of experts, including Handel Architects, Steven Winter Associates, Buro Happold, Monadnock Construction and co-owner Related Companies.
Luke Falk, Assistant Vice President of Sustainability for Related Companies said, "We are quite literally breaking new ground with the development of the world's first high-rise residential passive house and it signifies the deep commitment by the entire project team to create a paradigm-shifting campus in New York City. This milestone is also the culmination of unprecedented collaboration between the public and private sector and demonstrates the energy-saving potential of high rise residential architecture that can be achieved with forward thinking partnerships."
Passive buildings incorporate a super insulated building façade, an airtight building envelope and an energy recovery ventilation (ERV) system to create a comfortable interior climate without drafts and cold spots. The ERV system constantly pulls in fresh air and removes stale air, while recovering the energy in the climate-controlled air leaving the building. The PH requirement for the airtight facade (measured as air changes per hour or ACH) is 0.6 ACH, ten times tighter than typical new construction; new construction buildings average 6-8 ACH, while typical brownstones average 25 ACH.
The new structure, which is being designed by New York City-based Handel Architects LLP, will be the tallest building on Cornell Tech's campus and an iconic marker. The building's exterior will shimmer, using a state-of-the-art, color-changing paint that, when reflecting light, naturally shifts color from silver to warm champagne.
"High-rise multifamily housing is a vital part of the solution to the challenges we are facing with increasing world populations and a changing climate," said Blake Middleton FAIA, Handel Architects LLP. "The Cornell Tech commitment to innovation was the impetus to rethink how these buildings are designed and built, and we expect this project to be a game-changer, creating a new paradigm for affordable, high-performance buildings to meet this challenge."
The high-rise is slated to open as part of the campus' first phase in 2017.