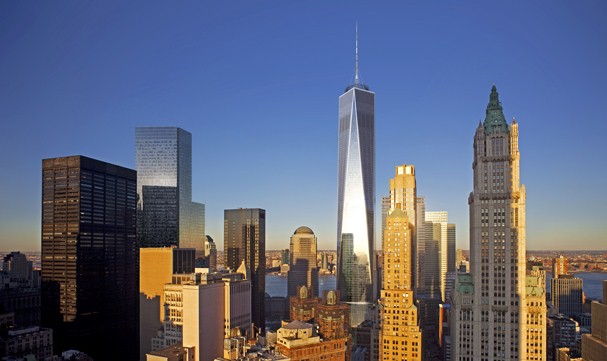 2014 was a record year for skyscraper completions. According to the Council on Tall Buildings and Urban Habitat (CTBUH), 97 buildings of 200 meters' (656 feet) height or greater were completed around the world last year. It appears that pent-up demand has returned to real-estate markets after a lull during the recession.
Of the 97 tallest buildings completed, 47 will be used exclusively for office space, including One World Trade Center in New York City, the tallest of the bunch. At 1,776 feet, One World Trade Center is now the third tallest high-rise in the world.
It's clear that Asia continues to dominate tall building construction with 74 of the 97 tallest completions. China was responsible for 58 of those, including 6 in the city of Tianjin. The tallest completed in China was The Wharf Times Square 1 in Wuxi, a 1,112-foot-tall (339 meters) hotel/office complex.
In New York City, 4 World Trade Center was completed in 2014 as well as One57, a 1,004-foot-tall (306 meters) luxury residential building. 25% of One57's units remained unsold at the close of 2014, perhaps due to a surge of luxury high-rise that are under construction in the city.
CTBUH is projecting between 105 and 130 buildings of 200 meters or taller will be completed in 2015, with the vast majority of them located in China. As for the United States, New York City's 432 Park Avenue is scheduled to be completed. At 1,396-feet-tall (426 meters), the luxury residential building will be the tallest of its kind in the Western Hemishpere.
Ten Tallest High-Rises Completed in 2014
| | | | | | | |
| --- | --- | --- | --- | --- | --- | --- |
| Rank | Building | City | Floors | Height (meters) | Height (feet) | Use |
| 1 | One World Trade Center | New York City | 94 | 541 | 1,776 | office |
| 2 | The Residences Abu Dhabi | Abu Dhabi | 88 | 381 | 1,273 | residential |
| 3 | The Wharf Times Square 1 | Wuxi | 68 | 339 | 1,112 | hotel/office |
| 4 | Wuxi Suning Plaza 1 | Wuxi | 68 | 328 | 1,076 | hotel/office |
| 5 | Moi Center Tower A | Shenyang | 75 | 311 | 1,020 | hotel/office |
| 6 | Burj Rafal | Riyadh | 68 | 308 | 1,010 | residential/hotel |
| 7 | One57 | New York City | 75 | 306 | 1,004 | residential/hotel |
| 8 | Wuxi Maoye City Marriott Hotel | Wuxi | 68 | 304 | 997 | hotel |
| 9 | Heung Kong Tower | Shenzhen | 61 | 303 | 994 | hotel/office |
| 10 | Torre Costanera | Santiago | 62 | 300 | 984 | office |