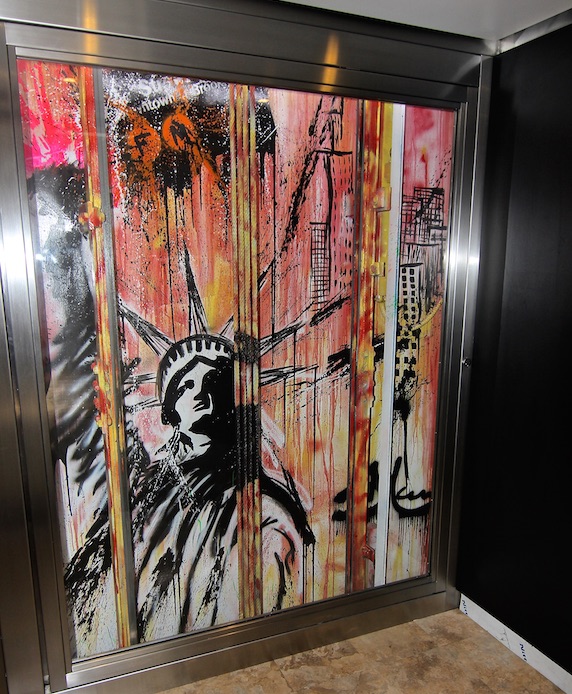 Contemporary artist, Skott Marsi, will infuse three Madison Square properties with his unique, artistic imprint to create 'vertical art galleries.' The Kaufman Organization commissioned Marsi to create 70 distinct works of art in the elevator shafts of 19 West 24th Street, 13 West 27th Street and 45 West 27th Street, all of which feature glass panels at the rear of each elevator cab, and will reveal Marsi's custom art.
"Skott embodies our creative vision for the Madison Square Portfolio — he is elaborate, inventive and most importantly takes his surroundings into account when undertaking a new project. When the Kaufman Organization was introduced to his work, we knew immediately that he was the person who would assist us in breathing new life into these buildings," said Grant Greenspan, principal of the Kaufman Organization. "Witnessing him begin the process of creating 70 distinct pieces of art, paying homage to New York City icons like Andy Warhol, Robert De Niro and prominent neighborhood landmarks, has been an amazing experience."
Kaufman has been working to reinvigorate the firm's Madison Square Portfolio by completing extensive capital improvements to attract companies in the technology, advertising, media and information (TAMI) sector.
"The Kaufman Organization acquired these buildings in a very poor and neglected state, and despite the bleak surface, we saw tremendous potential and value in these properties and have invested significant time and resources to enable each building to house today's top visionaries and creative minds," Greenspan continued.
The three properties will reintroduce approximately 200,000 square feet of office space back to the Flatiron and Nomad Districts. Each building will feature full floors of approximately 5,500 square feet with polished wood floors, open ceilings and three to four sides of windows. Ownership will offer a design-build program for each tenant and flexible terms, in addition to rent concession packages.
Photo courtesy of The Kaufman Organization