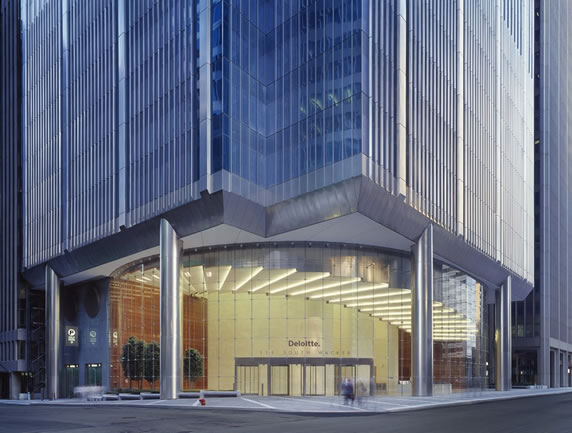 Chicago's 111 South Wacker, a 51-story, 1.1 million-square-foot Class A office tower, has been at the forefront of LEED certification since its completion in 2005, when the building became the first speculative, high-rise office development awarded LEED Gold certification in the Core & Shell category from the U.S. Green Building Council (USGBC). The building was also later awarded LEED Gold certification for Existing Buildings Operations + Management (EBO+M). Recently the West Loop high-rise was awarded LEED Platinum certification in the category 'Existing Building Operations + Maintenance.' Platinum represents the highest level of recognition for green buildings.
111 South Wacker is one of Chicago's most prestigious trophy class office towers. Incorporating the latest in international design standards, the building offers tenants efficient 28,000-square-foot floor plates with advanced technology, including redundant electrical and telecommunication services, and supplemental cooling capacity. Amenities include a fitness center, a 3,000-square-foot conference center featuring a 300-person ballroom and multiple smaller conference rooms, and Townhouse Restaurant & Wine Bar.
"111 South Wacker is one of the most desirable office locations in Chicago, with world-class tenants fully committed to corporate social responsibility," said Bill Truszkowski of Telos Group. "LEED Platinum certification is the industry's highest standard; it doesn't just happen even in a trophy building like this one. This is an achievement for every company here, and a benefit for future tenants."
The LEED Platinum certification process included all building tenants, and was led by Goby LLC, LEED recertification consultants; JLL, property managers; Metzler Real Estate, building ownership's advisors; and Union Investment GmbH, the building's owner.
Recertification at the LEED Platinum level was made possible by notable improvements in the past few years, including:
Smart building upgrade. A more advanced building automation system makes the building "smarter" and better able to make energy-saving adjustments in real time.
Commuter education. 85.98 percent of building occupants use alternative commuting methods, which has increased as a result of a tenant awareness initiative on pollution and land-use impacts of commuting by car.
Plumbing upgrades. Plumbing fixtures and fitting improvements helped reduce water usage to 37 percent below the baseline for LEED-certified office buildings, saving more than 2.2 million gallons annually.
Waste reduction. A program to reduce landfill waste has resulted in diverting more than half the waste stream from landfills. Today, 53 percent of building waste is recycled.
"Research has proven that the right green building investments also boost employee productivity," said Stuart Gordon, of Metzler Real Estate. "Innovation and productivity are evident everywhere when you walk through 111 South Wacker. It's more than the building systems and technology; it's the people who work here, and their commitment to a greener, healthier workplace."