Chicago's 200 W. Madison, a 928,040 square-foot high-rise office tower, reduced water consumption by 24.2 percent as part of the 2014 Energy Star National Building Competition: Team Challenge. The program involved more than 500 buildings across the country competing to improve energy and water efficiency.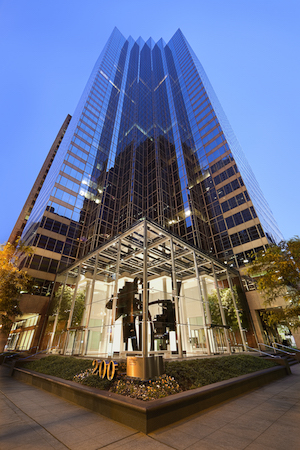 200 W. Madison, also known as Madison Plaza, is a 599-foot-tall skyscraper located in the Chicago Loop. Designed by Skidmore, Owings & Merrill, it contains 45 floors, and was completed in 1982.
The building's unique "sawtooth" design provides each floor with eight corners of floor-to-ceiling glass, allowing for more executive offices and conference rooms with views. At street level, a 3-story glass-encased atrium lobby showcases a Louise Nevelson sculpture called "Dawn Shadows.ďż˝?
Al Skodowski, Transwestern managing senior vice president and director of LEED and sustainability services, commented: "Transwestern has a longstanding commitment to improving sustainability and water efficiency in our managed portfolio to positively impact the bottom lines of our clients, and this honor is a testament to the caliber of our teams consistently driving those results each and every day.�?
In its fifth year, the National Building Competition featured teams from across the country competing to improve energy and water efficiency, lower utility costs and protect the environment. Together, competitors cut energy costs by more than $50 million, according to the EPA, which recently unveiled the final results.
The 2014 Energy Star National Building Competition measured energy and water performance over the entire 2014 calendar year. Competitors tracked their building's monthly energy and water consumption using Energy Star Portfolio Manager, EPA's online energy and water measurement and tracking tool. The energy and water use reductions for each top finisher were verified by an independently licensed professional engineer or registered architect at the conclusion of the competition.
According to the EPA, energy use in commercial buildings accounts for nearly 20 percent of total U.S. greenhouse gas emissions and energy consumption at a cost of more than $100 billion per year. On average, 30 percent of the energy used in commercial buildings is wasted. Thousands of businesses and organizations work with the EPA's Energy Star program and are saving billions of dollars and preventing millions of tons of greenhouse gas emissions from entering the atmosphere each year.
In addition to 200 W. Madison, two other Transwestern-managed properties received honors including Sixth Avenue West, a 124,504-square-foot office building in Golden, Colorado which ranked No. 1 in the office category for reducing its water consumption by 75 percent and saving $170,438.
Image courtesy Transwestern