Sumitomo Corporation of Americas has retained Transwestern to provide strategic and complex management services for Miami Tower, a 47-story, 619,084-square-foot, Class A core office tower in Miami's Central Business District. Transwestern Senior Vice President Andrea Lopez, head of Management Services in Florida, will lead the management team. Cushman & Wakefield was awarded office leasing and CBRE secured the retail leasing assignment at Miami Tower.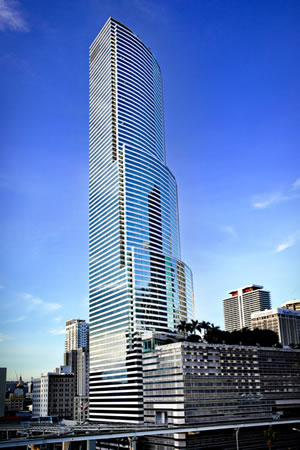 The purchase of Miami Tower in May marks the second investment Sumitomo Corporation of Americas has made in Miami, having owned Miami Center from 2008 to 2012, as well as the second partnership with Transwestern. During its ownership of Miami Center, Transwestern leased and managed the 782,210-square-foot-Class A office high-rise. "We are honored that Sumitomo has entrusted Transwestern to manage this significant acquisition," said Bruce Ford, president of Transwestern's Southeast division. "And, we sincerely appreciate the opportunity to build upon our existing relationship with Sumitomo Corporation of Americas, which has spanned locally and nationally."
With the redevelopment of Miami's CBD and transformation into a dynamic work and living environment, Miami Tower has become perfectly situated within the epicenter of the bustling city. Transwestern will apply a multi-pronged management approach to reestablish the vibrancy of the property, enhance tenant experience and its iconic position, and develop financial appreciation.
"Transwestern has been able to transform into the leading commercial property management company by applying high touch service approaches found within the world's leading hospitality companies and combined that with intuitive and skillful financial acumen," said Lopez. "By utilizing The Transwestern Experience, which focuses on people, process, and place, Miami Tower will naturally evolve into its own community, creating a true 'second home' for the tenants within the building."
Designed by renowned architect, I.M. Pei, the iconic Miami Tower consists of 37 stories of office space situated above 10 stories of parking, a Metromover station, and ground level retail space. The building is well known for its unique exterior lighting system and boasts a long-term and diversified blue-chip tenancy with firms including Carlton Fields, TotalBank, UBS Financial, Genovese Joblove, Ver Ploeg and the GSA.
Robert Obringer, vice president of Sumitomo Corporation of Americas Commercial Real Estate Unit, said, "It was important for us to find a partner who was deeply engrained and aligned within our corporate culture as well as accomplished in their execution. Transwestern was instrumental within our prior asset, and we look forward to continuing this relationship."
With 6.95 million square feet of property under management service in South Florida, the Miami Tower assignment adds a core Miami CBD asset to its portfolio as well as brings the total square feet under management to roughly 7.6 million.