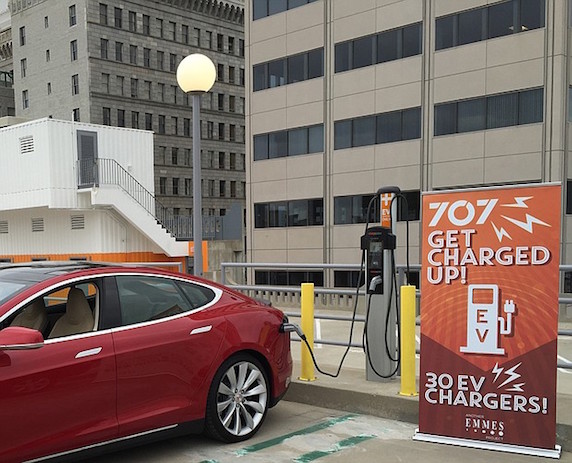 Emmes Realty Services has unveiled 30 electric vehicle (EV) charging stations in its public parking garage at 707 Broadway (707) in downtown San Diego.
707 now offers the largest concentration of publicly-available EV chargers in San Diego. To celebrate their green initiative, Emmes is offering free parking and charging at 707 for electric vehicles through August 31, 2015.
"At 707, we're focusing on innovation and creating a smart workplace for the future. With electric vehicles becoming more popular, we believe it is important to embrace this technology now," said Jordan Johnson, vice president, Emmes.
EV charging station availability and reservations are accessible via the ChargePoint app., which can be downloaded on any smart phone. Charging times are generally expected to be approximately two hours and the EV charging stations can be found on various levels throughout the parking garage. In addition to the EV charging stations, 707 offers secure indoor bike storage to support multiple green-oriented transportation options and appeal to locally based millennials.
"By 2020, 50 percent of the workforce will be in the millennial category and they expect amenities like EV charging stations from their employers," said Kris Michell, president and CEO, Downtown San Diego Partnership. "Emmes' charging stations are especially important because they are open to the public."
Emmes and its affiliates currently own and operate four high-rise office buildings in downtown San Diego totaling approximately 1.45 million square feet. These buildings include 1 Columbia Place, 2 Columbia Place, 701 B Street and 707 Broadway. Emmes recently completed a full lobby and terrace renovation at 1 Columbia Place (spending over $10 million on common area improvements alone) and is now focusing on making significant improvements and amenity additions at 701 B Street and 707 Broadway.
Image courtesy of Emmes Asset Management