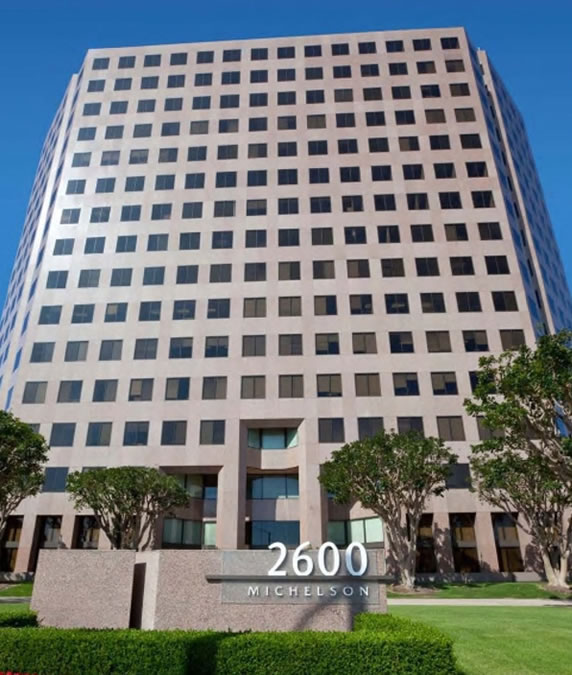 An initial two-day validation exercise at 2600 Michelson, a 300,000-square-foot, high-rise office tower in Irvine, California, revealed that the building's recent HVAC efficiency upgrade will provide a 43.7% reduction in HVAC energy usage. This reduction equates to a projected savings of nearly one million kWh per year.
The 16-story tower, built in 1986, is owned by Ocean West Capital Partners, who initiated the project after purchasing the distressed property out of receivership. The HVAC upgrade is part of their comprehensive repositioning effort, which includes updating the building to qualify for LEED certification. They installed Enerliance's Load Based Optimization System (LOBOS) Enerliance, an intelligent optimization system for large-scale air conditioning systems that promises improved comfort, energy efficiency and fully automated demand response capability.
"We made the decision to invest in LOBOS because it creates value in a building through the lowering of operating expenses, while not compromising tenant comfort. It's an added bonus that LOBOS also supports our application for LEED status," said Principal at Ocean West Capital, Ted Bischak.
The 2600 Michelson project is just the latest in numerous buildings across the country to adopt this HVAC optimization solution, not only because of the dramatic reduction of energy usage it creates, but because it achieves this previously unheard-of level of efficiency without compromising tenant comfort.
"Anyone can simply turn off equipment and achieve these kinds of savings—but the tenants would be miserable. In terms of affecting how the central plant operates during optimization and demand response routines, LOBOS is a breakthrough," said Bischak.
Curt Stromstedt, Director of Operations for Edgecore Real Estate Group, 2600 Michelson's property management company, believes that the new installation will save energy, and improve the comfort of tenants and save money for building owners. "Comfortable, energy-efficient buildings are easier to lease. A higher lease rate and lower operating costs translate directly into bottom line value for facility owners," said Stromstedt.
After 30 years of updating buildings for efficiency, Bischak knows the field and has seen it all. "There are a lot of people who claim to do central plant optimization, but actually achieving it while maintaining comfort conditions is extremely difficult," he added.